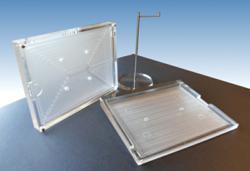 Our new iPad & iPhone Security solutions provide a great looking way to display your Apple products in a secure setting."
San Diego, CA (PRWEB) September 10, 2012
NewMacgadgets has developed a line of security products for retailers and businesses that use the iPad and iPhone in open environments.
With the introduction of the new iPad Security Dock, newMacgadgets has replicated the Apple store look while providing additional features to secure the iPad. The solid acrylic base provides a stylish solution for businesses looking to use the iPad for display purposes. Already large companies like P&G, J.Crew, Marriott Hotels and Frontier Airlines have incorporated the iPad Security Dock to their operations.
Also just released, the iPad Wall Mount Display allows businesses to securely display the iPad in conference rooms, museums, professional office settings and more. The iPad Wall Mount Display has been very popular with businesses, retailers and professionals that want to use the iPad as a billboard display. The clear acrylic base provides an elegant display while the outer-frame secures the iPad in place.
As another option to secure the iPad, newMacgadgets has just introduced PAD-Lock. PAD-Lock is a light-weight, aircraft grade aluminum stand that attaches to the outer corners of the iPad and is secured with a 7' security cable and lock. This security solution allows for full-mobility of the iPad. When not in use PAD-Lock works as a non-skid stand for the desktop.
Credit Card Dock is yet another security solution for the iPad that targets retailers and exhibitors that use the Square credit card reader for processing payments. Similar in design to the iPad Security Dock, the Credit Card Dock provides a larger slot in the acrylic base for the Square plug-in.
To secure the iPhone 4 & 4S, newMacgadgets has just introduced the new iPhone 4 Security Base. Also similar in design to the iPad Security Dock, the new iPhone 4 Security Base holds the iPhone 4 in a solid acrylic base that can attach to any hard surface. This product is the perfect complement to their iPad Security Dock.
According to newMacgagets president Michael Schriner, "Our new iPad & iPhone Security solutions provide a great looking way to display your Apple products in a secure setting."
In addition, newMacgadgets has designed a complete line of Apple and PC accessories that are ideal for the mobile user. Make sure to visit newMacgadgets to see all of their product offerings.