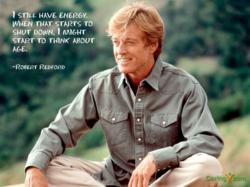 As long as he has energy, he's not going to think about aging.
Orange, CA (PRWEB) September 14, 2012
Robert Redford was spotted on HealthCompare's fanpage this week reminding sharers of his message that as long as he has energy, he's not going to think about aging.
HealthCompare, a nationally recognized health insurance comparison site, connects with fans daily through social media to motivate them to continue to be happy and healthy. Robert Redford's share was one of the many reminders that fans of the comparison site receives.
People of all ages use Facebook to connect with family, friends, and businesses they use. And it has proven to be an excellent way to get consumers to think about the healthcare coverage they have. Because HealthCompare is dedicated to the education of consumers everywhere, they've decided to go beyond the social media arena to connect with them.
By taking part in the new publishing boom that Amazon is experiencing, HealthCompare will step up and offer titles that will help shoppers make healthcare decisions and in traverse the difficult waters of life. Divorce, birth, death and more are times when health care coverage needs change and HealthCompare wants to make sure that people who are suffering through these times get the answers and the help they need to make effective decisions.
They have seen many consumers make decisions based on monthly premiums alone and wanted to make sure that people know what out-of-pocket costs actually entail, so they generated infographics to help guide the choices that are made everyday.
Infographics take long-winded reports and make them understandable for lay people who may not understand the lingo used in industry reports by displaying the information in a graphic layout with data, images, colors, and facts.
Some of the infographics HealthCompare released are:
Getting An Online Health Insurance Quote Made Easy - Designed to aid consumers in getting an effective medical policy quote
Instant Health Insurance Quotes May Not Be All They Seem - Illustrates the need for consumers to be wary when accepting insurance quotes
Beware Of Instant Health Insurance - Conveys how some offers of instant health insurance may or may not be legitimate
Get An Individual Health Quote The Right Way - Designed to educate consumers on the proper way to obtain effective health insurance quotes
E-books, infographics and social media enable HealthCompare to reach out to a wider audience and beyond the typical health insurance consumer.
But this tradition of education began on their site long ago when they began helping site visitors make effective choices by asking them the questions they needed to answer in order to land a policy that would actually offer them coverage instead of just a card in their wallet that didn't pay for much more than an ER visit, if that.
About Health Compare: HealthCompare was launched in 2009 to work with brokers and carriers to help individuals and families easily research, compare, buy, and enroll in the right health insurance plan at the right price. Based in Orange, Calif., it delivers accurate, customized, health insurance quotes for the country's diverse population.
Through a unique partnership with its sister company, CONEXIS, HealthCompare has the ability to quickly reach thousands of COBRA-qualifying consumers and provide them with COBRA alternatives at the moment they become eligible for COBRA benefits. This provides these consumers with an opportunity to enroll in individual or family plans and potentially save hundreds to thousands of dollars on COBRA premiums and, at the same time, rewards referring brokers with referral fee income for the life of each policy.
For more information, visit http://healthcompare.com/ or call 888.748.5152