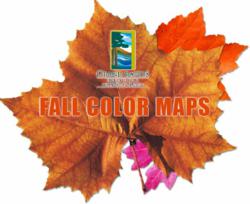 Folks of every age and ability can enjoy this natural phenomenon right from your automobile as we have compiled maps to guide you along the most scenic byways in the state," commented Megan Christianson
Grand Rapids, MN (PRWEB) September 11, 2012
As the busy summer season shifts into fall, the atmosphere takes on a certain relaxed feel. The amazing natural scenery begins to change from vibrant shades of green to explosive bursts of intense color. Hiking or biking any of the myriad trails in the area allows for immersion into a natural environment which produces a sense of moving through a beautiful painting. While many folks will conjure autumnal images of New England in autumn, Minnesota's hardwood forests rival and surpass those in every sense.
"The living canvas of color we experience here in the Grand Rapids area each fall is just as amazing whether you've seen it twenty times, or you are seeing it for the first time. Folks of every age and ability can enjoy this natural phenomenon right from your automobile as we have compiled maps to guide you along the most scenic byways in the state," commented Megan Christianson, Executive Director of Visit Grand Rapids.
Five detailed maps of routes beginning and ending in Grand Rapids have been posted on the Visit Grand Rapids website. Click Here to download the Fall Color Maps. There are thousands of acres of pristine forests preserved within State and National parks surrounding Grand Rapids. It is possible to head out in a different direction every day to view a vast array of colorful vegetation.
Different species of trees, grasses and native wildflowers mature and change color at various times throughout the season. The ever changing vistas provide endless shifts in color and intensity. The "Fall Color Maps" provided at the website are best used from mid-September to mid-October when the colors peak.
The maps take into consideration creature comforts as well by providing suggested rest stops and points of interest along the way. Special scenic stops, suggested food stops and places to fuel up are noted along the routes. While some drives may be accomplished in an hour or two, some provide day-long tours. The choices are perfect to fill the needs of all sorts of travelers and fit into any schedule. The drives are relaxing and will refresh the senses. With plenty of opportunities to pause along the way, everyone can step out and stretch while absorbing the beauty.
Grand Rapids is the perfect place to begin and end a day long journey with many lodging and dining options from which to choose. There are plenty of happenings within the community at this time of year that can only be enjoyed during the fall. Just some of them are: "Goods from the Woods" marketplace featuring fine arts, crafts and other items made from harvested natural materials; "Bargains are Great on 38" featuring 47 miles of garage sales from Grand Rapids to Effie; "Roy Clark, Capitol Steps, or Carvan du Nord" performance at the Reif Center; and Showcase of Homes fall home tour. Many more fun gatherings are planned and the online calendar of events is a good place to find out more.
"There are many options available to make it easy to put together the perfect Minnesota getaway for any visitor, be they active, outdoorsy, sports oriented, or prefer arts, shopping and fine dining. Visit Grand Rapids' helps visitors in planning their visit by helping with the selection of lodgings and activities best suited to their needs and interests" said Christianson.
The website contains a wide array of information on virtually any activity of interest. The very detailed calendar of events featuring information on all of the latest 'happenings' in and around the city can be found here.
The Visit Grand Rapids group is made up of 22 lodging properties located in the area. Together they have created an extensive website to present the best offerings for visitors planning a vacation to Minnesota's north woods environment. One feature of the website is the "HOT DEALS" page featuring specials and last minute offerings.
A phone call to Visit Grand Rapids headquarters at 1-800-355-9740 will connect callers directly to someone who knows the community, the upcoming events, the accommodations, and the offerings of bountiful autumn in northern Minnesota.