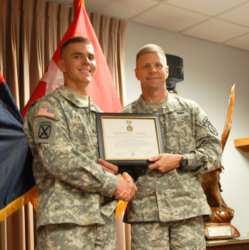 Schuh served as an example to others showing them that even those who are wounded can still serve an important and vital element to the mission.
Arlington, VA (PRWEB) September 10, 2012
Fort Drum soldier, Army Sgt. Richard Schuh, was honored Friday for his work off the battlefield- volunteering for the USO Kandahar in Afghanistan. Sgt. Schuh gave more than 200 hours of volunteer service while serving with his unit in Afghanistan.
Schuh was introduced to the USO during his recovery from wounds suffered by small arms fire and rocket propelled grenades. The USO served him, and other wounded soldiers, smoothies while they recuperated in warrior housing. Schuh was so impressed by this simple gesture that he stopped by USO Kandahar the next day to offer his services as a volunteer.
During his recovery, from mid-August to September 2011, Schuh dedicated more than 200 hours of his time to the USO- often volunteering for 6-8 hour shifts. Schuh ran 550 Cuff events, promoted and operated the United Through Reading's Military Program, recruited volunteers and also took the lead in creating and organizing NFL Fantasy Football Leagues.
"Sgt. Schuh is a inspirational leader and dedicated volunteer. While recovering from combat injuries, he always had a pleasant and friendly demeanor at the center," said Richard McCarty, Center Manager for USO Kandahar. "Schuh served as an example to others showing them that even those who are wounded can still serve an important and vital element to the mission."
Schuh was recognized on Friday at a ceremony led by Major General Mark Milley. Schuh is currently serving at Fort Drum, New York with the 4-25 Bravo Battery, 3rd Brigade Combat Team, 10th Mountain Division.
The USO Volunteer of the Year is selected for recognition from the USO's four geographic regions (USO Europe, USO Pacific, USO Southwest Asia and USO U.S.). From these, approximately sixteen volunteers, one is selected from each region. Of the final four, the USO Volunteer of the Year is chosen by a selection panel that consists of four USO Regional Vice Presidents, a representative of the USO Chartered Centers Council, two members of the USO Board of Governors and the Senior Vice President of Operations for the USO. Schuh will be honored along with five service member honorees at the 2012 USO Gala held November 2nd in Washington, D.C.
# # #
About the USO
The USO (United Service Organizations) lifts the spirits of America's troops and their families millions of times each year at hundreds of places worldwide. We provide a touch of home through centers at airports and military bases in the U.S. and abroad, top quality entertainment and innovative programs and services. We also provide critical support to those who need us most, including forward-deployed troops, military families, wounded warriors and their families and the families of the fallen.
The USO is a private, nonprofit organization, not a government agency. All of our programs and services are made possible by the American people, support of our corporate partners and the dedication of our volunteers and staff. In addition to individual donors and corporate sponsors, the USO is supported by President's Circle Partners: American Airlines, AT&T, Clear Channel, The Coca-Cola Company, jcpenney, Kangaroo Express, Kroger, Lowe's, Northrop Grumman Corporation, Procter & Gamble, and TriWest Healthcare Alliance and Worldwide Strategic Partners: BAE Systems, The Boeing Company, Lockheed Martin, Microsoft Corporation and TKS Telepost Kabel-Service Kaiserslautern GmbH & Co. KG. We are also supported through the United Way and Combined Federal Campaign (CFC-11381). To join us in this patriotic mission, and to learn more about the USO, please visit uso.org.