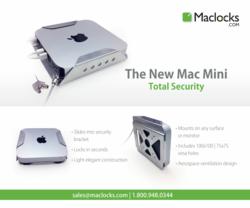 The Maclocks new Mac mini mount and lock is an innovative security mount that allows the perfect balance between security, versatility and esthetics
(PRWEB) September 11, 2012
Apple's Mac mini device is becoming a major player among education and corporate accounts. The new Mac mini presents significant improvements in raw performance over its predecessor. Apple is leading the trend adopted by other computer manufactures to remove the Kensington security slot which seems to have become obsolete due to its large dimensions which are no longer suitable for the slim tablet/ultrabook designs. As a result the security slot had been excluded from the latest Mac mini design as well.
This decision creates quite a challenge, as many education institutions and corporations are facing a difficulty to deploy Apple's new Mac mini without a viable security solution and proactively seeking for solutions.
Maclocks, the leading brand of Apple security and display solutions was the first company to work along side Apple to introduce an Apple dedicated security line almost 20 years ago. The company has been witnessing a massive demand for viable hardware security solutions to solve this problem and introduced today their new Mac Mini mount and lock.
Maclocks established its reputation when introduced the world's first iPad Lock and New MacBook Pro Lock (Retina lock) and Security Case bundle. The brand is continuing to introduce alternative and innovative ways to secure the new slim generation of devices.
"Apple's latest Mac Mini desktop computer demonstrates once again that Apple knows how to make computers better than anyone else. We at Maclocks don't make the best apple pies but we do make the world's best Apple locks and this is what our customers need" said Alexander Gad, Maclocks GM.
"We have been witnessing a great demand mainly for institutional use, and this requires a solid solution for Mac mini deployment in business. The Maclocks new Mac mini mount and lock is an nnovative security mount that allows the perfect balance between security, versatility and esthetics. From small businesses to Fortune 500 companies, organizations all over the world are using Apple devices along with Maclocks computer security solutions".
The Maclocks new Mac mini mount and lock is now available online for a special price of $69.95 and is already posed to be a new best seller. Please visit: http://www.maclocks.com/imac-locks/macmini-security-cable-lock.html
Contact Maclocks at sales (at) maclocks (dot) com
About Maclocks
Maclocks is a world leading brand and a premier designer and manufacturer of locking and display solutions for Apple's elegant iPad, MacBook air, MacBook Pro, Mac mini and iMac devices. Maclocks products security and display solutions are the best of choice for over 30% of the fortune 1000 companies across US and Europe.
Maclocks has been working with its customers and partners to solve their security requirements using innovation, the highest quality of materials, integrity and commitment to the highest level of customer service, owns a large number of patents in the field of hardware security and spends great resources on R&D and in quality control of its dedicated line of products.
Maclocks Apple dedicated line of products are sold to corporate accounts, retail and commercial companies, educational institutes, state and national government agencies, resellers and distributors world wide.