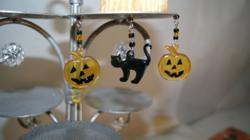 "Touch the tip of any of our Halloween or Fall Deco Charms styles to your favorite candle holder and presto – you have a Halloween/Fall-inspired accent!"
Carlsbad, CA (PRWEB) September 10, 2012
Known as Deco Charms®, these mini ornaments feature a small magnetic tip so they can be instantly attached to most metal decorative accents. Simply touch the tip of the Deco Charm to metal and they instantly stick! Add an extra touch of Halloween sparkle to cupcake stands, cake stands, candle holders, lamp shades, and so much more! Tiny yet strong magnets affixed to the tip of the Deco Charm make decorating for the fall holidays a snap! "Embellishing with Deco Charms is fun and easy," said Cynthia Nielson, co-founder of Magnificent Trimmings Inc. "Touch the tip of any of our Halloween or Fall Deco Charms styles to your favorite candle holder and presto – you have a Halloween/Fall-inspired accent!"
Perfect for seasonal parties or everyday seasonal inspiration, Deco Charms are available in over 12 different Halloween and Autumn themed styles. Available in boxed sets of 6, they also make great gifts!
All Deco Charm collections can be viewed online at http://www.lightcharm.com. The frequently updated web site features a gallery of design ideas submitted by both consumers and lighting designers.
About the Company:
Magnificent Trimmings Inc. was founded in 2006 by Cynthia Nielson and her mother, Colleen Nielson. Colleen Nielson is the inventor of the both Light Charms and Deco Charms and holds various patents for products that adhere magnetically to fixtures.