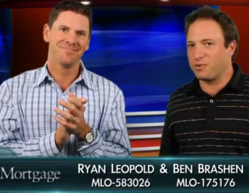 Think about maintaining a lifestyle, not just owning a home
Seattle, WA (PRWEB) September 12, 2012
Ryan Leopold has helped so many people finance new homes that he has eclipsed the $1 billion mark in mortgages over his career up to this point. In his interview with Ben Brashen on the Brashenomics radio show, on 1150 AM KKNW Seattle, he goes over some important points that all first time home buyers should consider when buying their first home.
He talks about the difference between getting pre-approved and actually being qualified. He discusses the three most important criteria lenders will be looking for: credit, job history, and down payment.
He then goes on to explain how the amount of money you have saved up should not necessarily all be used for the down payment on a first home. A good lender will try and find out exactly what a person is comfortable with coming up with for their down payment, and what they will be comfortable with after their loan is closed, when they start to having those additional monthly costs associated with owning a home.
"Think about maintaining a lifestyle, not just owning a home," says Ryan Leopold.
Ryan and Ben have put together a great website for anyone looking for information on getting a mortgage in Kirkland, Bellevue or the Seattle area for their first home, and having great experience doing it.
They also have a YouTube show called Mortgage Resource TV which has all kinds of first time home buying tips. If you would like to watch the video of the interview on Brashenomics you can get that right here: First Time Home Buyer Mortgage Tips.