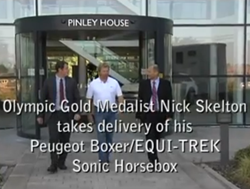 (PRWEB UK) 10 September 2012
He made his name on the show jumping field, but Olympic gold-winning equestrian Nick Skelton has chosen a Boxer to help get his horses from A to B.
The record-setting horse rider has placed an order for a Peugeot Boxer Equi-Trek Sonic horsebox.
Nick won the Team Gold in the London 2012 riding events, and has previously won gold at seven European Championship events, as well as breaking the record for the equestrian high jump – which he has held since 1978.
He narrowly missed out on an individual Olympic medal in London, after downing a single fence in the final round.
The Equi-Trek Sonic is a specially-modified Peugeot Boxer van, designed to offer optimum comfort for both horse and occupant.
Easy to drive and compact in stature, the horsebox is driven by a 2.2-litre diesel engine with a power of 130bhp.
As it is weighs just 3,500kg, the Equi-Trek Sonic delivers excellent economy without compromising on performance, and can be driven by anybody with a full standard car licence.
Additionally, the Sonic boasts two saddle racks, equipment hooks and two bridle racks, as well as a separate changing room.
With extra storage above the cab, the horsebox is ideal for those that take part in competition events – as well as for general training purposes.
The horsebox benefits from the manufacturing prowess of two sector-leading brands.
Equi-Trek is a family-run company with years of experience in equestrian transport, whilst Peugeot is part of Europe's second-biggest car manufacturing group, PSA Peugeot Citroën – which produces vans, MPVs, city cars, electric vehicles and more.
The car brand's commitment to quality ensures that the Peugeot Boxer Equi-Trek Sonic only needs to be taken for servicing every two years, or 24,000 miles.
Nick is not the first equestrian luminary to choose an Equi-Trek horsebox – other prestigious owners include Michael Whitaker, John Whitaker, Robert Smith and Peter Charles.
Eventers Nicola Wilson, Oliver Townend and William Fox-Pitt have also opted for Equi-Trek products.
For more information about the Peugeot Boxer, visit http://www.peugeot.co.uk/
Notes to Editors
About Peugeot UK
Peugeot is part of the PSA Group – Europe's 2nd largest automotive producer and is one of the top ten vehicle brands in the world. In 2010 the Peugeot brand celebrated its 200th anniversary.
Its UK subsidiary has its headquarters in Coventry and there are 250 Peugeot Dealerships throughout the UK.
The product portfolio includes electric cars (iOn), petrol & diesel cars (107 Compacts, 207, 208, 308, 3008 Crossovers, 4007 SUVs, 5008 Compact MPVs, 508 RXH & RCZ Sports Coupés) and MPVs / vans (Bipper, Partner, Expert & Boxer).
Press Contacts
Andrew Didlick \ +44 (0)24 7688 4309
Andrew(dot)didlick(at)peugeot(dot)com
Kevin Jones \ +44 (0)24 7688 4215
kevin(dot)jones(at)peugeot(dot)com
Steven Fahey \ +44 (0)24 7688 4216
steven(dot)fahey(at)peugeot(dot)com
Craig Morrow \ +44 (0)24 7688 4261
craig(dot)morrow(at)peugeot(dot)com
Janet Brace \ +44 (0)24 7688 4257
janet(dot)brace(at)peugeot(dot)com