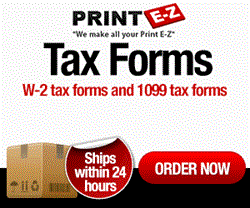 Irrespective of whether someone is looking for a W2 form, a W3 form, a 1099 tax form or the relatively less used 1042 tax form, finding these at the PrintE-Z.com is easy
Monroe, NY (PRWEB) September 12, 2012
Tax forms online retailer, PrintEZ.com has added a range of new pre-printed tax forms to their inventory lately. The move has taken place after due deliberation of the kinds of business forms that businesses need to use in order to file their tax returns. In an attempt to stay on top of the game, PrintEZ.com CEO Morris Rose stated, "Irrespective of whether someone is looking for a W2 form, a W3 form, a 1099 tax form or the relatively less used 1042 tax form, finding these at the PrintEZ.com is easy". The CEO also goes on to state that the launch has ensured various versions of each of these tax forms in order to ensure that a customer can always find one that is compatible with the tax accounting software that is being used.
Obviously, it seems that the strategy that PrintEZ.com is adopting is one that leaves no stone unturned. And this is why the company seems to have taken cognizance of all the business forms that are required during the tax season and provided various options for the same. PrintE-Z.com that has recently overhauled their website, making it more consumer friendly, has also taken this opportunity to add on various items to their existing list.
While W-2 forms were always present among the various tax forms available earlier, there have been many that have been added keeping the requirements of specific kinds of businesses. Now, there are W-2 forms that are easy to print on a laser computer and those that are best suited for continuous printing on the dot matrix too. In addition to this, there seem to be various formats that allows three W-2 forms in one page horizontally too along with some that have a pressure seal and others that are self-mailers too.
A similar kind of addition has been done to the existing 1099 tax forms. In addition to the ones that already existed, the customer is likely to find a wider range of choice with regards to format and printability of the 1099 tax forms. PrintEZ.com tax forms have always been compatible with IRS regulations. The forms are printed on bond paper and have the right kind of perforations that are required by the State.
Refurnishing the already existing range of W2 forms and 1099 tax forms is not the only thing that PrintEZ.com has done. The company has also added a range of employment tax forms and unemployment forms that every company is required to submit each year. Add to that the 1042 forms and 1098 forms too.
PrintEZ.com also recognizes that some industries may need separate kinds of tax forms during the tax season. Recognizing this need, PrintEZ.com decided to also launch 5498 forms that are required by financial institutions providing any kind of financial service. The online tax form retailer has conducted thorough research to ensure that the three varieties of 5498 forms are covered in this comprehensive launch strategy. The 5498 tax forms now available at PrintE-.com include the 5498 – IRA, the 5498 – HAS and the 5498 – ESA forms.
During the launch of these additional tax forms PrintEZ.com CEP also stated, "Customers can be sure that PrintEZ.com will continue to update our offerings. These additions shall be based on software compatibility issues, specific requirements of industries and large clients too."
There seems to be no doubt that PrintEZ.com has made it their mission to ensure that tax forms on their site are viewed in a new light. Not only does the company provide tax forms in bulk for large corporates, but small and medium sized businesses can order smaller quantities as well. In fact, PrintEZ.com may be the only online retailer that allows its customers to order small quantities of tax forms too.
To read more about Tax Forms click here http://www.printez.com/tax-forms.html
Get more information about how Print EZ offers and new launches on Tax Forms call the company at 1-888-246-0635.
To read more about Business Forms click here http://www.printez.com/business-forms.html
and get regular updates of new offers and deals here.
Print EZ
4 N Main St.
Monroe, NY 10950
(845) 782-5832