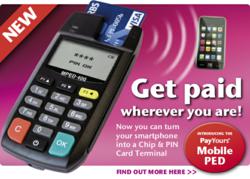 Matthew Sanderson the MD of PayYours told the Financial Times recently that "our system is the only one that works with all types of mobile phones and in a foolproof way
Manchester, UK (PRWEB UK) 12 September 2012
Matthew Sanderson Managing Director of Pay Yours Ltd, the specialist mobile trader payment solution specialist says "Getting paid remains one of the biggest problems for small businesses, especially those mobile workers who need to take payments from customers in their homes or places of work.
Ask any trader how difficult it is to get paid and they will reel-off a list of customer excuses as to why they can't pay them right now, this minute, because they haven't any money on them and the cheque books run out" !
Well now all those excuses are history, every customer has a Debit or Credit card to hand and although up to now most mobile workers could be counted on for not accepting card payments the world is about to change.
Now you can turn any Smartphone into a Chip & PIN Card Payment Terminal "with the UKs first and only Visa and MasterCard approved PIN entry device. The Chip & PIN device 'talks' to a mobile phone using Bluetooth and sends the fully encrypted customer transaction via an app enabled mobile phone to be authorised and then onto your bank account.
PayYours, the specialist mobile trader payment solution provider, has launched the MPED , on a pay-as-you-go basis for just £9.95 a month. There is no minimum monthly transaction Charge,and the device is fully Payment Card Industry compliant,
The MPED works off any smart phone, android and even iPhone and once the transaction has been verified and authorised, which takes a matter of seconds, a payment receipt is sent to the customer via email or text.
Matthew Sanderson the MD of PayYours told the Financial Times recently that "our system is the only one that works with all types of mobile phones and in a foolproof way.
The money is guaranteed to go into your bank account." PayYours is a Manchester-based business aiming for the self employed, small company business market that are out and about trading with customers wherever they are, and therefore need a mobile payment solution that works, but equally need a low entry-cost, easy and effective way of taking Debit and Credit card payments securely.
With a quick and easy set-up, PayYours take all the hassle out of the mobile trader obtaining a Merchant ID, or MID as it is known, allowing instant connection the terminal and bank account .Pay Yours can include a Smart phone as part of a package.
For more information see http://www.payyours.co.uk or call 0161 855 3979
NOTES TO EDITORS:
About Pay Yours Ltd
PayYours® is an exclusive sales channel dedicated to mobile traders. PayYours®: partnering with Streamline who process nearly 1 in 2 of all card transactions in the UK (3.9 Billion transactions in 2010) — your reassurance of service, quality and security for your customers. Streamline is a service provided by WorldPay (UK) Limited.
We're dedicated to supporting the changing payment needs of all mobile workers who deal directly with their customers at their homes or places of work. What's more, we're committed to delivering our products and service at low costs.
About Matthew Sanderson
Matthew Sanderson has a somewhat unique background for one who has ended up in the Card Payment Industry; after years with General Electric as Global Products Manager he went onto help build Hong Kong airport and the Mass Rapid Transit railway system in Singapore, before returning to the UK to run an award-winning building company. With a dislike for banks, an aversion to customers who owed him money and the anticipated abolishment of cheques, Matthew set about developing PayYours as a card payment solutions provider for mobile workers and small business traders, offering the very latest and best answers to both gaining a merchant account and a card terminal.