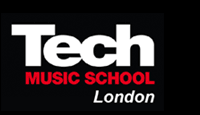 (PRWEB UK) 11 September 2012
The curriculum of traditional music schools was built around the works of classical composers and the jazz movement for many years. However, for those that wish to undertake a structured and recognized course to lead into a career which will see them become a professional musician, the options are endless with the courses provided by one ever-growing establishment.
Within their 30 years' experience in popular music education, Tech Music School (TMS) has seen a stream of talented young musicians, producers and songwriters pass through their doors to undertake courses ranging from diploma to masters level, who are now flourishing within the music industry and working with the likes of Adele, Jessie J, One Direction and Marina and the Diamonds to name just a few.
Continuing to open their doors up for another year to people across the UK and abroad, TMS combine quality teaching methods with nurturing the passion of each individual to see them flourish within an industry that is ever-changing; and if you're an overseas student, this is the perfect time to get on board as around 40% of TMS students are from outside the UK.
Andrew Bates, Principal of Tech Music School discusses the variety of personal and professional education they offer, 'Over time, Tech Music School has evolved from being a solely a performance-based School to nurture talent across all aspects of the commercial music industry with a range of new courses. The success of our students is not only down to raw talent, but the hard work all our staff put in to help students reach their full potential.'
The growth of TMS has been apparent since day one; however the next 12 months will see the biggest expansion the School has undergone in regards to their courses and their premises. Offering more in terms of course options, with the introduction of Music Production, Music Business and Songwriting, they have made the transition from music school to 'industry within the music industry'. These courses provide students with core skills of working within the industry without necessarily needing to pick up an instrument, appealing to those wanting to step into entrepreneurial or production roles.
As well as the exciting introduction of new courses, the School is expanding its premises with a £3million investment to enable it to support its students with state of the art facilities. TMS ensure they equip their students with the tools to be successful within an industry where no two days are ever the same, and with lecturers that are working actively within the music industry, students can be confident that they are receiving the best advice before leaving and heading into a career – something many education facilities often miss.
With all the up and coming changes, it's never been a better time to be part of the Tech Music School family. To discover more about the courses available in October, as well as what else is on offer from this London based school, visit their website here: http://www.techmusicschool.co.uk