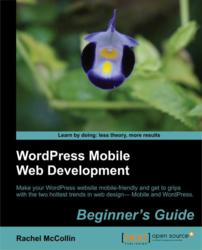 Birmingham, UK (PRWEB) September 10, 2012
WordPress Mobile Web Development Beginner's Guide is the latest WordPress Mobile title published by Packt this month. Filled with practical examples and exercises to learn with, the book enables its readers to build mobile and responsive websites using WordPress, while getting to grips with the best mobile plugins. It shows how to make personalized WordPress theme/site responsive, including layout, images, navigation and more.
WordPress is a free and open source blogging tool, and a dynamic content management system (CMS) based on PHP and MySQL. It has many features including a plug-in architecture and a template system, and is currently the most popular CMS in use on the Internet.
WordPress Mobile Web Development Beginner's Guide demonstrates a variety of techniques, from simple to more complex, in order to allow readers to quickly start building mobile-friendly WordPress sites. This includes using off the shelf plugins and responsive themes, selecting and customizing the best amongst them. Next is responsive theme design, with advice on layout, images, and navigation. In the end, readers learn how to build a web app in WordPress, making use of plugins, APIs and custom code.
The book excludes everything that is not relevant to WordPress or mobile development, thereby allowing readers to remain in focus, and identify approach to mobile that is most appropriate for their website (responsive, mobile or web app). It helps them understand which approaches work and why, so that the readers know precisely how to apply this knowledge for future projects.
WordPress Mobile Web Development Beginner's Guide is for people who wish to build mobile or responsive themes or sites, regardless of whether they have dabbled in WordPress or have been working with it for years.
For complete information related to this book, and making book/e-book purchases, visit
http://www.packtpub.com/wordpress-mobile-web-development-beginners-guide/book
To see a complete list of WordPress titles published by Packt, visit
http://www.packtpub.com/books/wordpress