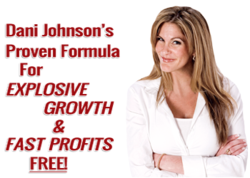 Las Vegas, Nevada (PRWEB) September 11, 2012
On March 6, 2011 the Secret Millionaire show featured Dani Johnson on its season premiere. The show reached 12.6 million viewers making it the most popular program on American TV. It was also the most successful premiere of an unscripted reality series to show on ABC compared to other reality shows in the previous three years, before its premiere. There was a significant change in the ratings of ABC due to the show. Here, the show reveals what Dani tells as her secret to becoming a millionaire and a few of the dynamics as to how she leaves as one. The show geared up to be one of the most watched as the premiere took place.
On the premiere show, Dani Johnson concealed her identity and went to live and volunteer in the most improvised American communities with the sole aim to trying to remain anonymous for as long as it takes. The temptations captured on the show included survival on weekly welfare wages, and other challenges of battling odds daily in search of food, shelter and other basic needs. The show produced a dramatic climax, after highlighting her mission to find unsung heroes of America. These people deserve some form of luxury but sacrifice it all to help individuals who are battling with poverty. At the end of the show, Dani the ABC secret millionaire reveals her identity and gives away more than $100,000 of her money. This leads to a complete overhaul of people's lives enabling them to afford basic commodities that are essential for their health and upbringing.
The qualification of Dani Johnson as the ABC secret millionaire came from the fact that she shares the same past as the people profiled in the reality show. She was raised on welfare and got pregnant at 17. By age 21, she was homeless, and when she got to 23m, she had already become a millionaire in a classic rag to riches story. Today, she is a multimillionaire and is the founded of five companies. She is also a bestselling author and speaks internationally to fully booked events. The humble beginnings of the chosen secret millionaire began when she licensed a weight loss product and they started manufacturing her own products. They were mainly nutritional and skin care related. Deep inside she holds a passion for improving the lives of others and this explains her role in the secret millionaire.
The success of the ABC secret millionaire show led to an increased awareness of the help that Dani was offering through her websites, and millions of people searched on Google about her, eventually getting to listen to her free audios and videos, which led to tremendous reported results on personal development. This includes income raises, debt payoffs, job bonuses and raises, entrepreneurships endeavors and to cap it all, many became new millionaires. After the show, the network asked for a recommendation of new millionaires and Dani Johnson recommended some of her students who used her training program to go literally from broke to millionaires.The success of the ABC secret millionaire show led to its rerun just before the start of the second season. This allowed new fans of the show to get a quick and detailed introduction to its features, especially how on how she helped participants.
About danijohnson.com-
Dani Johnson featured on the first premiere of the ABC millionaire show and today provides millionaire secrets on how to make money quickly through her website danijonson.com. Through the website, clients can get training programs for personal and professional development. All material follows her tested and proven methods of success.