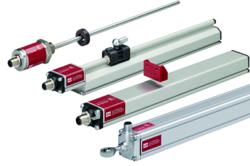 Cary, NC (PRWEB) September 10, 2012
MTS Systems Corp., Sensors Division, today announced that E-Series Temposonics® Sensors are now available with digital SSI and CAN outputs. E-Series sensors are designed to offer the economics, reliability, durability and ease of use of linear magnetostrictive sensors to those customers who don't necessarily need advanced performance levels. By adding SSI and CAN, MTS can offer these economical solutions into a wider range of automation and industrial applications.
"These advances allow us to offer advanced linear positioning tools in industries where, due to economic or space restrictions, they didn't necessarily make sense in the past," Matt Hankinson, technical marketing manager with MTS Sensors, explained, "The E-Series meets the performance demands of standard applications without the premium features needed in higher performance applications. By adding SSI and CAN outputs, we expand the potential uses considerably."
The Temposonics E-Series currently includes the Model EH (rod design), EP (profile design) and EL (low profile design), allowing varied solutions based on their specific design parameters.
The new SSI output sensors are available with a resolution of 20, 50 or 100 microns and the CANopen output encoders are available with a resolution of 10 or 20 microns. Gauge lengths range from 50 to 2500 mm (2 to 100 inches). These protocols offer the intelligent interface, robust signal transmission, and precise measurement needed across many different automation applications while meeting the economic restrictions of industries such as woodworking, plastic injection molding and packaging equipment.
All E-Series sensors offer a range of benefits including absolute linear position, compact dimensions, a cost effective M12 connector, the measurement of two positions with one sensor and more.
For more demanding applications, MTS Sensors manufactures the Temposonics R-Series, also available with a wide range of outputs, including SSI, CAN and Industrial Ethernet among others. The R-Series provides faster update times and improved accuracy for high-speed motion control.
These products will be on display at the International Manufacturing Technology Show (IMTS) in Chicago, Sept. 10-15. All visitors are invited to stop by booth #E5554 to learn more.
Additionally, for more information on MTS Sensors, please contact: Matt Hankinson, MTS Sensors, 3001 Sheldon Drive, Cary, NC 27513. Phone: (919) 677-0100. E-mail matt.hankinson (at) mts (dot) com or visit http://www.mtssensors.com.
MTS Sensors, a division of MTS Systems Corp., is the global leader in the development and production of magnetostrictive linear-position and liquid-level sensors. Based on MTS' Temposonics® technology, the Sensors Division is continually developing new ways to apply magnetostrictive sensing technology to solve critical applications in a variety of markets worldwide. With facilities in the U.S., Germany, Japan and China, MTS Sensors Division is an ISO 9001-2008 certified supplier committed to providing innovative sensing solutions.
###