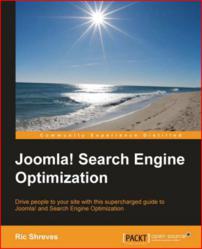 Birmingham,UK (PRWEB) September 11, 2012
Packt Publishing announces Joomla! Search Engine Optimization book and ebook, for creating a search engine-optimized Joomla! Website. Written by Ric Shreves, a web applications consultant and Open Source tech author, the book gives readers an insight into the functioning of a search engine along with instructions on configuring a Joomla! site to make it search engine-friendly.
Joomla! is an award-winning content management system (CMS), used for building websites and powerful online applications. Many aspects, including its ease-of-use and extensibility, have made Joomla the most popular Web site software available. Best of all, Joomla is an open source solution that is freely available to everyone. SEO, or Search Engine Optimization, is the process and technique by which content and style of the website can be optimized in order to induce more people to view it.
The Joomla! Search Engine Optimization book guides readers to develop dynamic and productive SEO campaigns, covering both the basics of campaign development as well as the daily work required. It will help the reader to produce a distinct and appropriate strategy for any particular site and discover the right configurations and extensions for SEO purposes.
The book tackles topics like configuring Joomla!'s SEO Options, useful extensions to enhance SEO and managing SEO on a live site. Executing a link building campaign, selecting the most effective key phrases, tracking with Google Analytics and developing content that advances search marketing goals are some other topics covered in the book.
The book takes a hands-on approach to the process involved in configuring a site for SEO, covering best practices in contemporary SEO. Advanced technical skills are not required, however, the user should be familiar with administering a Joomla! website, including how to install Extensions.
The book is out now and available from Packt in print and popular eBook formats. To read more about it and download a sample chapter, please visit the Packt web-page.