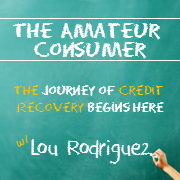 I knew if I could get over the fear and embarrassment of letting everyone know exactly what I was going through, it could make a huge difference in many people's lives
Coral Springs, FL (PRWEB) September 18, 2012
Lou Rodriguez uses his 20 plus years of experience with credit, financing, and helping others overcome credit issues to launch a free new video series for consumers currently struggling with their credit.
Rodriguez says: "What makes the Better Credit Blueprint unique is the fact that I am accelerating the process of credit recovery for myself while creating each video. If followed, these videos will help anyone accelerate the process of credit recovery as well. I demonstrate exactly what to look for on your credit report as you look over my shoulder and demonstrate how to correctly initiate disputes using consumer protection statutes, not gimmicks and tricks."
The series is not designed to 'turbo charge' or skyrocket a person's credit score. Rodriguez says, "the only way to improve your credit score is too improve your credit report first, as I explain in my blog post titled 'The Credit Score Myth and Why it's Wrong'.
As he knows all too well, the mountain to climb out of credit and financial devastation can seem insurmountable. Rodriguez uses 3 different versions of his own personal credit report to show that by slowly taking the time to make corrections in your credit file, your credit score will improve and you will start to regain that upward mobility once lost.
Rodriguez also wanted to share his actual stories and firsthand accounts of being pushed off the financial grid and becoming a member of the 'Underbanked'. Rodriguez says, "I knew if I could get over the fear and embarrassment of letting everyone know exactly what I was going through, it could make a huge difference in many people's lives. When I did, I created The Amateur Consumer blog and the Better Credit Blueprint Video Series to share my knowledge with authenticity and proof that it is absolutely possible to accelerate the process of credit recovery"