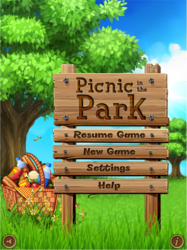 (PRWEB) September 10, 2012
A new board game for children 4 to 10 years of age called Picnic in the Park is now in the iTunes App Store for $2.99.
Picnic in the Park is designed to be easy for children to play. All that's required of the player is rolling the die and selecting the correct "good card" to counter a specific "bad card"; the game takes care of everything else.
The object of Picnic in the Park is to be the first player to reach the Picnic Grounds with a full basket of goodies. As the game progresses, players stop on squares with food items on them and add them to picnic baskets.
Certain food items, like chicken, pizza, apples, and watermelon, are sprinkled throughout the game board. Other special foods are only found in specific park areas: Delightful Drinks, Hamburger Heaven, Hotdog Hill, or The Sweet Spot. If a required item is not collected by the time a player has traveled through the area, he or she must go back to the start of the area and try to collect the necessary item.
Along with picnic food, players also collect cards along the way. Some cards are beneficial, while others hinder the player's progress. "Bad cards" include bears stealing hamburgers from baskets and ants trampling desserts. However, a player can counter a "bad card" by playing "good cards" that they have collected. For example, the park ranger can chase that bear away, and ant traps take care of the pesky insects.
Picnic in the Park can be played against the iPad or with up to three friends. The game was first constructed as a physical board game and then adapted for the iPad with sound effects and music. Picnic in the Park is designed to provide both entertainment and unlimited replay ability.
About the Game Designers:
Brothers Jim and Tom Trunzo have been designing games together for more than 30 years. Their first game was called "Title Bout: the Game of Professional Boxing," which they later adapted into a Windows game called "Title Fight Championship Boxing." They have also collaborated on "Pro Tennis," "APBA Pro Boxing," "APBA Soccer," "Dwarf Mountain," "Journey," and "Hydra."
Both men are now grandfathers, motivating them to create a child-friendly game with no hint of violence, no direct competition, and no hidden in-game costs. They also have nearly 70 years combined experience in public education and incorporate lessons like counting and simple word recognition into their games. To learn more about Picnic in the Park visit http://www.tjgameapps.com/.