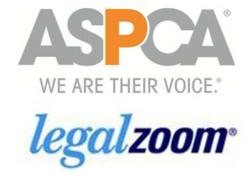 "Through our collaboration with LegalZoom, we hope to educate pet owners about the importance of planning for our pets in the same way we would for any other member of our family." -Jim Echikson, ASPCA
New York, NY (PRWEB) September 10, 2012
The ASPCA® (The American Society for the Prevention of Cruelty to Animals®) today announced a shared effort with LegalZoom.com to raise awareness of Pet Protection Agreements® and encourage pet owners to plan for the future of their pets. LegalZoom will donate 10-15 percent of the purchase price from Pet Protection Agreements® purchased through the partnership to the ASPCA to support its national programs.
"Through our collaboration with LegalZoom, we hope to educate pet owners about the importance of planning for our pets in the same way we would for any other member of our family," said Jim Echikson, senior director of Corporate Partnerships for the ASPCA. "By creating a Pet Protection Agreement® through LegalZoom, our supporters are taking the essential step of planning for their pets' future and well-being, while contributing to the ASPCA's mission."
The Pet Protection Agreement®, created by animal law attorney Rachel Hirschfeld, is an agreement that allows pet owners to establish continuing care for all of their animals when they are not able to care for them.
"My inspiration is my dog, Soupbone," said Ms. Hirschfeld. "Something happened to his original owner, consequently landing him in the city shelter at risk of being killed. The Pet Protection Agreement® is all about the continued care of pets for their entire lives. It ensures that pets who have been lucky enough to have a family will continue to enjoy a loving home, even upon the death or inability of the pet owner. In addition, the Pet Protection Agreement® provides a vehicle to support pet-related charities."
"From the perspective of the court, pets are treated as property, not loving companions," said Brian Liu, chairman of LegalZoom and the owner of a Jack Russell Terrier and a beagle. "That means that if you pass away or become unable to care for your pets, a judge may determine their fate. A Pet Protection Agreement® gives you control and peace of mind, allowing you to appoint a pet guardian for your pet and set specific instructions for the care of your pets. You can also leave funds to ensure that they receive the same standard of care to which they're accustomed."
Pet owners completing a Last Will or Living Trust with LegalZoom are also able to leave charitable gifts to the ASPCA, or designate the ASPCA as an Organization of Last Resort in the Pet Protection Agreement®.
"Millions of companion animals are surrendered to shelters each year, many because their owners did not establish continuing care for their animals in the event that they were unable to do so," continues Echikson. "Our partnership with LegalZoom allows us to offer pet owners the opportunity to plan for their pet's future, while also supporting the life-saving work that the ASPCA provides to animals across the country.
About the ASPCA®
Founded in 1866, the ASPCA® (The American Society for the Prevention of Cruelty to Animals®) is the first animal welfare organization in North America and serves as the nation's leading voice for animals. More than two million supporters strong, the ASPCA's mission is to provide effective means for the prevention of cruelty to animals throughout the United States. As a 501(c)(3) not-for-profit corporation, the ASPCA is a national leader in the areas of anti-cruelty, community outreach and animal health services. For more information, please visit http://www.ASPCA.org, and be sure to follow the ASPCA on Facebook, Twitter, and Pinterest.
About LegalZoom
LegalZoom is the leading online provider of services that meet the legal needs of small businesses and consumers in the United States. We are not a law firm, and we do not provide legal advice. We provide self-help legal documents at our customers' specific direction and general information on legal issues generally encountered. Independent, licensed attorneys participate in our attorney network to provide services to our customers through our legal plans. The company is headquartered in Glendale, California, with additional offices in Austin, Texas and San Francisco, California.
About Rachel Hirschfeld
Attorney Rachel Hirschfeld is a nationally renowned expert in estate planning and the preeminent authority on continuing protection of all animals. She has travelled the world promoting animal welfare and has come to the deep understanding that our animal friends will continue to die or live forever in a shelter unless we all take action to plan for their continued care. This led her to create the Rachel Hirschfeld Pet Protection Agreement® which can be found on LegalZoom.com and PetTrustLawyer.com. Rachel is a member of the prestigious National Academy of Elder Law Attorneys and co-chairs the New York County Lawyers Association's Animal Law Committee. She is author of the book: PETRIARCH: The Complete Guide to Financial and Legal Planning for a Pet's Continued Care. Rachel's family pets currently include two rescued dogs, Swizzle and Adam, a rescued cat, Topper, and a feral cat, Tamma.
###