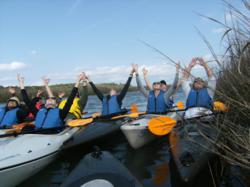 Everyone is surrounded by natural beauty, we just have to take the time to appreciate it.
Hilton Head Island, SC (PRWEB) September 11, 2012
Nestled in scenic Hilton Head, South Carolina, Hilton Head Health (H3) has been helping individuals adapt a healthier lifestyle and lose weight for over 35 years. In honor of National Yoga Month, H3 is hosting a three-day Yoga Retreat featuring Stand Up Paddle (SUP) Yoga, Beach Yoga and a forest preserve Yoga excursion on September 27-29, 2012.
The H3 Yoga Retreat emphasizes taking Yoga practice outdoors. Amber Shadwick, H3 Fitness Specialist and co-host of the H3 Yoga Retreat, says, "Everyone is surrounded by natural beauty, we just have to take the time to appreciate it. That's what we aim to do during this retreat. Twice a year H3 hosts a Yoga Retreat and each experience exposes participants to the luscious foliage, clear skies and vast ocean that make Hilton Head a popular travel destination."
View Shadwick's "Outdoor Yoga Practice" video with H3 Fitness Instructor and Yoga Retreat co-host Karen Verechia on the official H3 YouTube channel.
The H3 Yoga Retreat takes place over three days during which participants engage in a variety of Yoga practices including Yoga Nidra (Yogic Sleep), Bikram Yoga (Hot Yoga) and Bhakti Yoga (Indian Yoga practice), while also enjoying daily island excursions such as a kayaking Yoga excursion down the May River, SUP Yoga in the Marsh and Yoga experiences in the Hilton Head Forest Preserve and neighboring Pinckney Island.
Participants receive a complimentary Yoga mat, bag with strap and eye pillow. To view the H3 Yoga Retreat sample schedule, visit the official H3 website at http://www.hhhealth.com. For information on any of H3's workshops or weight loss program, call (800) 292-2990.
About Hilton Head Health:
For over 35 years, Hilton Head Health has been recognized as the premier weight loss and health retreat in the United States. Most recently, Hilton Head Health was featured on A&E's weight loss docudrama 'HEAVY', which aired in spring 2011. Voted as "Best for Weight Loss" for the past five consecutive years by SpaFinder and "Top 5 US Health Spas" by Lisa Drayer on the Today Show, Hilton Head Health is an exclusive resort delivering individualized experiences in the areas of Fitness, Nutrition and SELF (Stress management, Empowerment, Longevity, Fulfillment). For more information, please visit http://www.hhhealth.com or call 800-292-2440.