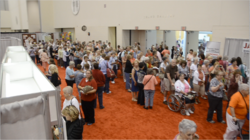 If Da Vinci could sew, he'd make one of these.
Des Moines, Iowa (PRWEB) September 11, 2012
The American Quilter's Society, headquartered in Paducah, KY, presents the fifth annual AQS Quilt Show & Contest in Des Moines, IA, October 3 – 6, 2012 in the renovated Iowa Events Center. Over 15,000 quilt lovers will converge upon the area to enjoy the largest quilt show in Iowa. More than 1,000 quilts will be on display, including multiple international exhibitions.
The AQS Quilt Show & Contest celebrates the art of quiltmaking. Although commonly associated with warmth, dedicated quilters create stunning works that are respected as museum-quality artistry. Today's quilters create intricate designs expressing emotional power and aesthetic innovation.
On seeing the level of artistry in the AQS Quilt Show in Grand Rapids, Stacia Kalinoski of ABC's WZZM Channel 13 noted: "It doesn't even quite look like a quilt; looks like a painting. Look at the detail, it's absolutely stunning."
AQS Marketing Director, Tim Langlitz says, "Like Renaissance masterpieces, these works of art are saturated with passion and precision. If Da Vinci could sew, he'd make one of these."
The high point of the show recognizes the artistry of today's quiltmakers, as over 180 quilters in the AQS Quilt Contest are competing for more than $44,000 in cash awards. Entries in this international contest and exhibition come from around the world, as well as 30 from Iowans.
Quilting's popularity is growing around the world, and the American Quilter's Society is a key promoter internationally. This year's AQS Quilt Show in Des Moines, IA, includes two celebrated international exhibitions.
AQS and Kokusai Art present "Japanese Color and Form: New Works by Fifty Japanese Artists." Viewers will be amazed with the intricate detail and uniquely Japanese aesthetic in these works. Fifty breathtaking pieces include traditional Japanese themes and techniques along with modern twists on the time-honored craft.
Des Moines, IA is the second stop on the new world tour of "Stitch Like an Egyptian: Tentmakers of Cairo." The appliqué masterpieces are made exclusively by hand, all from a single market street in Cairo, Egypt. At their North American Premiere in Grand Rapids, MI, many attendees spent hours viewing these works of art.
The Des Moines Area Quilter's Guild's Annual Quilt Show – "Welcome to the World of Quilting" adds to the local flavor, while the National Quilt Museum is also providing two exhibits for display. Highlights of the work of author Gwen Marston and prize-winning quiltmaker Jean Lohmar, round out the experience.
Admission to the AQS Quilt Show & Contest includes access to all special exhibitions and the Merchant Mall.
Hours are Wednesday, October 3 through Friday, October 5 from 9 a.m. to 6 p.m., and Saturday, October 6, 9 a.m. to 5 p.m.