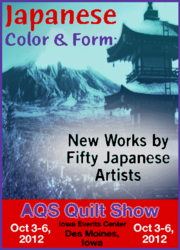 This exhibition is free with admission to the AQS Quilt Show & Contest
Des Moines, IA (PRWEB) September 13, 2012
The American Quilter's Society presents a new exhibition, "Japanese Color and Form: New Works by Fifty Japanese Artists" at its fifth annual AQS Quilt Show & Contest in Des Moines, Iowa, October 3-6, 2012. Curated by Kokusai Art of Yokohama, Japan, this exhibit shares the unique artistry of Japanese traditional quilt design with modern flair.
Japanese quiltmaking has evolved extensively over the past forty years. Once influenced by Western and antique designs, many uniquely Japanese quilt techniques and designs have become a model for quilters across the globe. Entries in international quilt contests from Japan now include art quilts made with Japanese kimono fabrics and Japanese designs.
AQS Executive Show Director Bonnie Browning notes: "Color development in Japanese clothing is strongly related to Japanese culture and to the people's character."
Some Japanese works also reflect uchikake costume shape or use traditional Japanese patterns. The fifty quilts included in this exhibition typify the artistry of Japanese quiltmakers. Whether in their shashiko stitching or the traditional themes revisited, visitors will gain a love and appreciation for the Japanese influence on the art of quiltmaking.
Dedicated to promoting the art and skill of quiltmaking, the American Quilter's Society hopes this exhibition will promote the charms of Japanese quilts to quilters and fashion designers around the world. This exhibition is free with admission to the AQS Quilt Show & Contest at the Iowa Events Center in Des Moines, Iowa. The show is open to the public, and runs from October 3rd through 6th, 2012.