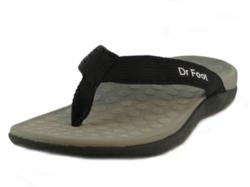 United Kingdom (PRWEB UK) 11 September 2012
Dr. Foot Orthotic Sandals are uniquely designed with an orthotic arch support built directly into the sandal, ensuring quality foot support while providing wearers with an attractive sandal that can be worn in a variety of settings.
While foot orthotics are easy to find, sandals that provide adequate support are not, so Dr. Foot Orthotic Sandals have been specially designed by podiatrists to give biomechanical support to relieve foot problems such as foot pain, heel pain, plantar fasciitis, bunions, flat feet, and leg pain.
Flip-flops are one of summer's biggest indulges but wearing this type of shoe comes with serious consequences, including stubbed and broken toes, sprained ankles, bone fractures and abrasions to the feet and toes. The National Foot Health Assessment committee estimates that 78% of adults over 21 years of age have suffered at least one type of injury due to the wearing of flip-flops.
The two biggest dangers that podiatrists ascribe to the use of this type of footwear is the lack of the support that this shoe provides, particularly in the heel, followed by the fact that the toes often grip the shoe to prevent it from falling off, which causes an upset in the natural gait of most wearers.
The fact that flip-flops have become such a well-loved summer staple has haunted podiatrists for years, so the specialists behind the Dr Foot devoted themselves to creating a sandal that would be attractive, supportive and safe. It is only now that they are completely satisfied with the sandal that they have designed.
There are several unique features found in the design of Dr Foot Orthotic Sandals:
*The integrated, contoured four and a half degree orthotic arch support provides superior dynamic foot support, from heel strike to forward propulsion, which makes these sandals the perfect complement to the Dr Foot Orthotics range.

They are proven to combat over-pronation; more than 70% of the population has a tendency to roll inwards on their feet when they walk, which often causes serious biomechanical problems over the long term. Dr Foot Orthotic Sandals are designed to positively affect foot position and alignment, thereby reducing the stresses and forces damaging the feet. These sandals were designed to realign the feet to their natural position to minimize the impact these stresses and forces can exert throughout the body.
*The shock absorbing mid-sole reduces key stress points on the feet, knees and legs.
The comfortable woven toe-post and foam-lined strap provide a luxurious and secure fit.
Deep heel cups provide superior shock absorption and the durable rubber outsole provides traction on all types of surfaces, so you never have to worry about slipping.
The structure and cushioning built into the shoe is designed to protect against the damage often causes by walking and standing on hard, flat surfaces.
*This sandal easily replaces the traditional shoe/removable orthotic insoles device during summer months, and they can be worn at the beach or barbeque, after sports and even indoors.
*The durable rubber outsole comes with a patterned tread that improves traction on hard or wet surfaces.
Dr. Foot Orthotic Sandals are specially created with built in orthotics that provide superior foot support, comfort and alignment while allowing customers to experience the comfort of wearing an attractive sandal anytime and anywhere.
Contact: Dr Foot orthotic sandals were designed in the UK and will launch worldwide this month, demand is currently very high so don't leave it too late to place your order!
Orders can be placed online at Dr Foot.co.uk or by calling 0800 1953440 for £39.99 per pair.
Summer is back...for everyone!