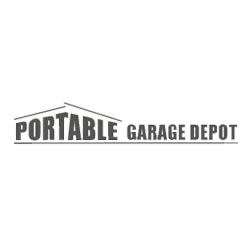 West Springfield, MA (PRWEB) September 11, 2012
The warmer weather of early fall, within two to three months, gives way to the colder temperatures and frigid climates of winter. Leaves fall and accumulate, and snow and ice have a greater chance of building up on vehicles and other investments left outdoors. Nevertheless, the constant exposure to the elements can damage the vehicle's or investment's surface. A portable garage is an economical solution for shelter against the elements in the colder months. But, instead of simply providing a view of shelters online, Portable Garage Depot is offering New Englanders an opportunity to see them in person by being present at the 2012 Big E.
On a general level, portable garages, carports, and all other portable storage shelters have a basic design: a steel frame is anchored into the ground and supports a polyethylene cover. Not all portable garages and carports have identical strength, however. Portable Garage Depot offers shelters with durable galvanized or powder-coated steel frames and rip-stop, heavy-duty polyethylene that blocks out UV rays and water and is treated to be mildew resistant and rot proof. Competitors' shelters tend to have smaller pipe diameters, frames are not equipped with wind braces, legs or rib spacing is too far apart, and the cover is too lightweight.
Portable Garage Depot, through its website, offers a large selection of structures, and many of these will be present at the Big E. Products range from economical shelters, ideal for temporarily protecting a car or motorcycle, to heavy-duty fully metal carports and square-tube sheds. Structures vary, in shape, from peaked roof to rounded shelters, with valance and enclosed options, and can cover investments ranging in size from a car to multiple RVs.
Not effectively sheltering a car, seasonal vehicle, or equipment shortens its lifespan in the long term. Vehicles and other investments constantly exposed to UV rays experience fading, and cracks form on the surface. Water, as well, pools inside or on top, attracting mildew, mold, and dry rot in the process.
Seeing shelters in person is not the only opportunity Big E visitors will have through Portable Garage Depot. At the event, the company is giving customers a free rollup kit (a $30 value) with every purchase, along with reduced shipping costs.
To visit, the Big E is located at the Eastern States Exposition in West Springfield and runs from September 14 to September 30. As New England's largest fair, the Big E has exhibits lasting from 10 a.m. to 10 p.m. each day. Along with various vendors, the event presents such exhibits as the Storrowton Village Museum, Avenue of the States, and Farm-A-Rama and other activities, including rides, food, shopping, cake decorating, entertainment, and cooking contests.
Press release services and search engine optimization provided by Keyword Performance.