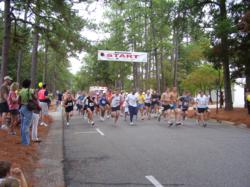 Fitness, fun, and family are the keys to the festival from 9 am to 4 pm on October 6.
Southern Pines, NC (PRWEB) September 12, 2012
Autumnfest features a variety of entertainment for everyone!
The 34th annual Autumnfest is scheduled for Saturday, October 6 at Downtown Park in Southern Pines. The festival takes place from 9 a.m. to 4 p.m. and has something for everyone: arts and crafts, live entertainment, rides, a One-Mile Fun Run/Walk, a 5K Road Race, Youth Sprint Races for ages 3-12, and much more!
Autumnfest entertainment will be headlined by The Smith family, at 9:00 a.m. and 10:45 a.m. The band plays and performs bluegrass and the band consists of Corey (16), Nellie Grace (14), Elijah (10), their father and Luke (11).
For the youth, Autumnfest will have the Grey Seal Puppets at 12:00 p.m. and 1:45 pm. Also for the kids, Buddy Farnan (magician) will be performing at 10:00 a.m. and strolling through Downtown Park entertaining and performing.
Filling out the entertainment slate will be the The Lizzy Ross Band German band at 12:45 p.m. and 2:45 a.m. The Lizzy Ross Band performs folk, jazz and blues songs. In addition to the entertainment, Interactive Playgrounds will bring several inflatable rides and other games for kids of all ages, such as the Super Obstacle Course, Inflatable Joust, Clubhouse Combo, and Double-Shot Basketball. The games will be located on the tennis courts in the park.
If physical fitness is your thing, Autumnfest will offer its annual One-Mile Fun Run/Walk and the 5K Road Race. The One-Mile Fun Run/Walk gets underway at 9:00 a.m. and is free of charge. The 5K Road Race will begin at 9:50 a.m. and winds through beautiful Southern Pines into horse country and back. The cost of the 5K is $15 prior to September 21 and $20 the day of the race. The race entrance fee includes an Autumnfest T-shirt. To receive a race registration, call the Southern Pines Recreation and Parks Dept. at 910-692-2463 or download a form on line at http://www.southernpines.net/recreation . Packet pick up will be at the Rainey Shelter at Downtown Park on Friday, October 5 from 5:30 – 6:30 p.m. Race registration on the day of the event will begin at 8:00 – 9:00 a.m. at the Rainey Shelter. The 5 K race is part of the Sandhills Race Series and will feature chip timing. Awards will be presented at 11:30 a.m. at the Autumnfest stage.
Autumnfest is a one-of-a-kind festival with many activities held in conjunction with an arts and crafts show. Everyone is invited to come early to the picturesque setting of downtown Southern Pines for this annual fall event presented by Aberdeen Coca-Cola Bottling Co., Johnny O's Awards, Sandhills Trophy and Sports, Sandhills Race Series, FirstHealth of the Carolinas, the Southern Pines Recreation and Parks Dept., and the Arts Council of Moore County.