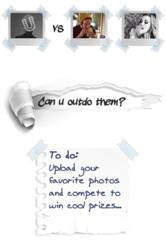 Get rewarded for being social.
New York, NY (PRWEB) September 12, 2012
A fantastic new photo challenge game, uOutdo, has just announced its highly anticipated launch. uOutdo is the first game that encourages players to show off their photo skills and creative talents while rewarding them for doing so. Players upload their personal photos or favorite photos from around the Web and then compete against other uOutdo players for valuable credits and lucrative prizes. Anyone can join the fun and uOutdo is 100% free to play.
One of the most compelling reasons to join in the interactive fun at uOutdo is to compete against other players in the site's popular "Featured Challenges." Each of these is sponsored by a participating company that contributes great real prizes. So winners can convert their free uOutdo experience into actual monetary value while snagging some awesome promotional rewards. That makes uOutdo a powerful marketing and branding tool for companies wanting to leverage social media and attract a larger and more enthusiastic target audience. A recent challenge sponsored by a software company, for example, rewarded the winners with Amazon.com gift cards worth $25, $50, and $100.
Facebook and Twitter accounts can also be seamlessly integrated into the uOutdo system. Doing so enables players to generate more votes and higher rating by promoting their own photos to friends and family members.
Playing uOutdo is simple and anyone can play. As Christopher Bouzy, a spokesperson for uOutdo, explains "Some users say that the site is like Instagram meets Hot or Not, but we also designed the site to feel similar to Facebook in terms of its ease of use and intuitive navigation."
Players join challenges already in progress by simply uploading a favorite photo. Or they can create their own challenges based on various topics in a number of cool categories. The challenges are exiting and diverse, too, and include everything from nature photos to humorous pics or snapshots of favorite automobiles, fashion items, or pop stars.
Each time a photo is rated, the person who posted it receives credits. So if someone gives a photo five stars, for instance, the player gets five credits. Plus it is possible to rack-up lots of extra credits by engaging in other activities around the uOutdo website. Once the competition ends the top three participants who generated the highest ratings for that challenge win and walk away with the corresponding credits or prizes. Credits are a virtual currency redeemable on the site to create and participate in challenges or to send other players Emoticons.
So whether you are a shutterbug, gamer, or just want an entertaining way to socialize while competing for amazing prizes, check out the groundbreaking service uOutdo. Meanwhile uOutdo may be the perfect solution for any business seeking an effective but affordable marketing tool to make their brand go totally viral.