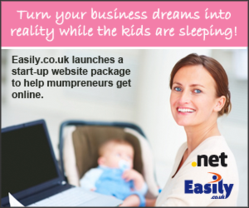 My website is pretty much my only source of promotion for the business, but it seems to work well as I'm fully booked continually.
London (PRWEB UK) 12 September 2012
Easily.co.uk launches an inexpensive start-up website package featuring a .net domain name to help the growing number of mumpreneurs turn their business idea into an online reality with a minimum of fuss.
Increasing numbers of mothers in the UK are choosing to be their own boss and are starting their own business online. According to Start Up Donut, there are almost 300,000 mumpreneurs established in the UK and this figure is still growing.
Importance of mothers getting online:
Many mumpreneurs who start their own business begin as a hobby or when they see a gap in the market for mothers. Businesses range from home-baking, jewellery, and children's parties to breastfeeding scarves and virtual personal assistant services. Word of mouth is the main source for business at the beginning however, an online presence can give them extra exposure and attract new customers twenty-four hours a day.
Mumpreneur Sue Field who has a home-based cake baking business and hosts her website Finessecakes.net with Easily.co.uk says, "My website is pretty much my only source of promotion for the business, but it seems to work well as I'm fully booked continually".
Flexibility of an online business:
New mothers who go back to their day job find it difficult to balance work with looking after young children. An online business on the other hand gives mothers the flexibility and ability to juggle work around their children from the comfort of their home. They have the freedom to create and manage their website when the children are at school or asleep.
"I have complete flexibility to go into the site at any time of the day or night and make updates and changes without the need of going through a third party. Most of the time I'm on the website very late at night updating the blog, as the rest of the time I'm busy making cakes", says Sue Field.
Soaring childcare costs:
Mothers who go back to work end up spending a significant amount of their income on childcare. Growing childcare costs and the pressure to please everyone spurs mothers on to quit their job and to set up their own business.
According to the Annual Childcare Costs Survey 2012 carried out by Daycare Trust, the annual average childcare expenditure for a part-time place in many parts of Britain averages at £5,103 for a child under two and the most expensive nursery recorded was £15,000.
Testing the waters with an online business:
Starting an online business is a good, inexpensive way of testing out a business idea. Easily.co.uk has spotted that mumpreneurs need an online presence to expand their reach. Mumpreneurs need an inexpensive website to promote their business, so Easily.co.uk has launched a start-up website package for £35 a year, which includes a .net domain name, website creator, web hosting and two personalised email addresses to give mumpreneurs a full online presence.
As part of this website package, the website name can end in .net, one of the fastest growing domain names where millions of start-up businesses have brought their ideas to life online. A .net web address is credible and instantly recognisable worldwide, perfect for launching a new online business.
Simple and fast website creation:
One misconception about creating your own website is the need to hire a web designer and computer programmer. Technology has advanced tremendously over the years and now it is simple for anyone to create their own website within minutes.
The appeal of the start-up website package from Easily.co.uk for mumpreneurs is that they do not need experts in coding or design to put together a stylish business website. There are over 100 design templates that can be adapted for individual business ideas. A company logo, brand colours, text and images can be added easily and quickly. Easily.co.uk takes care of the web hosting so that the website stays up and running for everyone to see.
About Easily.co.uk:
Easily.co.uk is a leading UK provider of cost effective web hosting and domain name services. Easily.co.uk was formed in 1999 to provide UK businesses and consumers with reliable services at affordable prices and backed by first class customer support. Easily.co.uk is part of Group NBT, a leading provider of domain names and internet-related services with over 350 employees worldwide. On Friday, 25th November 2011, Group NBT was acquired by Hg Capital LLP, a substantial private equity fund with assets of over £3.4 billion under management and experience in a number of sectors and geographies.