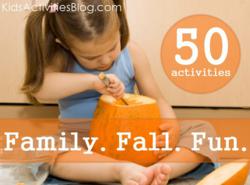 Autumn activities for kids are being pinned on Pinterest boards next to Halloween party food and family-tested Thanksgiving recipes.
Dallas, TX (PRWEB) September 11, 2012
Researching new activities for autumn used to be something that would require a trip to the library for teachers and parents, but today they are looking online. Kids activities and craft blogs are full of fall-themed activities and preschool fall crafts and it shows on social media sites like Twitter, FB and Pinterest.
Fall-related Pinterest boards are rapidly being filled with autumn colored pins displaying autumn crafts and activities. Halloween-themed party food and family-tested Thanksgiving Recipes are pinned along with autumn activities for kids.
Kids Activities Blog listed 50 of their favorite fall things to do with kids found from online sources. The huge list starts with a simple preschool fall craft and ends with a family craft for Thanksgiving. In between are packed many other ideas for fun things to do with kids in a fall theme.
Pumpkin slime, Pumpkin pie playdough, decomposing pumpkin experiement, baked pumpkin seeds, and pumpkin chocolate chip cookies are among the pumpkin-related ideas. Halloween activities like DIY spider webs, candy apples, leaf skeletons, candy corn cookies, simple costumes to make at home, eerie sounds, spooky sensory bin, and ginger dead men are scaring up a silly good time for families.
Outdoor fall activities can help push kids outdoors when the weather is cooler and sneak in a little learning: dripping tree limb art, leaf art, build a catapult, window sill gardens, outdoor pretend play, nature walks, gardening with kids, making a solar oven out of a pizza box, churning butter, bike ride exploration, DIY PVC pipe tent, and maple tree blocks. Fall doesn't have to be all about sitting in school with this type of outdoor fun.
Simple Thanksgiving activities can direct kids toward being thankful and family togetherness. Acorn art, tie dyed coffee filters, owl craft, making a bird-feeder, simple homemade gifts, Thanksgiving activities and family Thanksgiving crafts are all ways to bring kids into the conversation of giving thanks.
There is a reason why parents and teachers are seeking these activities at this time of year...they are just fun. Kids Activities Blog is a good resource for parents who are seeking fun things to do with their kids. Family fun is a Kids Activities Blog specialty.