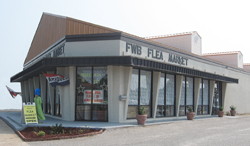 Fort Walton Beach Flea Market - Don't pay retail...fleatail!
Fort Walton Beach, FL (PRWEB) September 20, 2012
Every Year, Fort Walton Beach Flea Market in Florida hosts its most popular event of the year, an Anniversary Party and Customer Appreciation Day. The annual event gives vendors an opportunity to thank their loyal customers by giving away gift certificates and prizes at the day-long event. This year, the flea market is hosting the event on Saturday, September 29th 2012 from 9:00 a.m. until 8:00 p.m. and will feature the best prices of the year on the flea market's most wanted items, including home decor, jewelry, collectable coins, books, magazines, furniture and much more.
"This is truly a "pickers paradise. It is impossible to list everything in inventory as 60 vendors constantly add new items daily," said Roger Knight, owner of Fort Walton Beach Flea Market. "Check out our website at http://www.fwbfleamarket.com to sign up for our Email Blast newsletter and get the latest news about vendor sales and new items." At a previous Customer Appreciation Party, Fort Walton Beach Flea Market vendors gave away over $4000 in door prizes. A door prize was given away every half hour and each prize was worth at least $75.00 and one was valued at $1500.00. "You can't win a prize if you stay at home," said Mr. Knight. "So come on down!" Mr. Knight also encourages customers to like Fort Walton Beach Flea Market on Facebook to receive a special discount.
About the company:
Fort Walton Beach Flea Market is Fort Walton Beach's largest indoor, air conditioned Flea Market at just under 15,000 sq. ft. FWB Flea Market offers everything from cell phone chargers to extinct mammoth ivory tusks. Serving the Fort Walton Beach and Destin, Florida markets for over 5 years, the FWB Flea Market is home to over 60 vendors. The Flea Market has donated or raised over $46,000 to local or national charities since 2007 when Roger Knight, retired USAF, acquired the Flea Market. For more information, visit their website at http://www.fwbfleamarket.com.