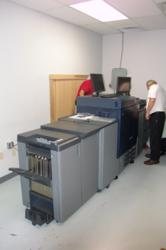 "The purchase of the Konica Minolta C8000 is just one part of our strategic plan for continued, accelerated growth through 2013; this acquisition positions us well for future success," Tom Flottman, CEO - Flottman Company
Cincinnati, OH - Northern Kentucky (PRWEB) September 10, 2012
The Flottman Company, a market leader in variable data printing, marketing solutions and miniature folding installed the new Konica Minolta C8000 Bizhub Press – the print industry's leading digital printing press as publicized at Drupa 2012. This acquisition amplifies Flottman's commitment to personalized variable data printing, on demand communications and short-run print fulfillment.
The Flottman Company will now be able to offer a variety of new paper stocks, thicker paper weights, more vibrant colors and richer tones, all with improved print quality. One of the big benefits of upgrading our current Konica Minolta system to this state of the art machine is the reduced learning curve for our entire pre-press team. All four of our current press operators are able to run the machine the moment installation was complete.
According to Tom Flottman CEO of the Flottman Company, "This new Digital Konica Minolta Press will enable us to expand our services and improve our production quality while cementing our industry representation as a leading digital printing service provider. We researched a plethora of digital presses over the past year with the assistance of the Printing Industry of America. In the end, our past experience with Konica Minolta and the service offered by Cincinnati's own ProSource made our decision for us."
The Konica Minolta® bizhub Press C8000 presents a revolution in color digital printing with an amazing 1200 DPI resolution and a blazing 4,800 full color pages per hour (80 full color pages per minute). Heavyweight card stock, upwards of 15 point, can be fully duplexed with needed registration adjusted immediately in-line. The system includes an on-board, touch screen command center, a powerful FIERY print management software and rip-times five to ten times faster than our previous press.
According to Flottman, "The purchase of the Konica Minolta C8000 is just one part of our strategic plan for continued, accelerated growth through 2013 that will include acquiring additional machinery, the hiring of skilled position personnel and new product offerings, positioning us well for future success."
If you would like more information about the Flottman Company, to schedule an interview with Tom Flottman or Ed McMasters, please contact Ed McMasters (513) 470-9461 or e-mail Ed at emcmasters (at) FlottmanCo (dot) com.
About the Flottman Company:
The Flottman Company is a full-service graphic communications firm founded in 1921 and headquartered in Northern Kentucky. The company provides design and strategic marketing services to enable clients to "Communicate Brilliantly;" including 1:1 marketing solutions, a wide array of printing, complete digital printing and specialization in pharmaceutical printing and manufacturing of miniature folded inserts and outserts. Printing Industries of Ohio and Northern Kentucky named the Flottman Company their 2011 Printer of the Year and in 2010 the University of Cincinnati honored the Flottman Company with the Tri-State Family Business of the Year Award while the Business Courier decorated Flottman with the 2012 Green Business Award. Flottman Company has been featured in the New York Times, Family Business Magazine and CNBC News for their industry expertise and family business success. The company is a privately held, family owned business, currently run by the third generation of Flottmans: Tom Flottman, Sue Flottman Steller and Peter Flottman.