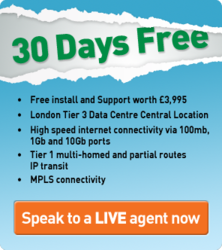 Backbone Connect Expands Data Centre Reach in to Global Switch 2
London (PRWEB UK) 12 September 2012
Backbone Connect Expands Data Centre Reach in to Global Switch 2.
Backbone Connect, one of the leading Managed Networks and UK Data Centre providers; has announced today the company is now offering a range of premium colocation services from the Global Switch 2 data centre, boosting its capacity in the London area.
Backbone Connect provide colocation services from tier III and tier II data centres across the UK and have established a significant footprint in London. "We're still seeing increased demand for colocation services in quality data centres. IT service companies realigning their businesses to offer cloud computing services is just one market we've seen significant growth in," says David McLeod, Marketing Director at Backbone Connect. "These IT savvy customers demand quality, resilient infrastructure and excellent green credentials from their data centre. Global Switch 2 fits the bill perfectly and is a welcome addition to our range of superior london data centres and around the UK"
Global Switch 2 was designed and built to an enhanced Tier III specification and benefits from diverse feeds from the national grid – considered to be one of the most resilient data centres available in the UK. Situated within close proximity to the main fibre routes, the data centre is underpinned by a minimum N+1 standard for power and cooling systems, delivering an optimal operating environment to clients 24x7.
"We're incredibly excited to bring this new London data centre online," says David Taylor, Director of Sales at Backbone Connect. "We've built a reputation around providing premium colocation services in some of the best data centres in London so Global Switch 2 fits well with us. The great news for our customers is we're now able to offer our range of flexible colocation solutions from one of the largest purpose built data centres in Europe."
Established in 1998, Global Switch operates nine carrier neutral data centres around the world including Global Switch 1 and 2 both located in the London Docklands Area as well as London Goswell Road.