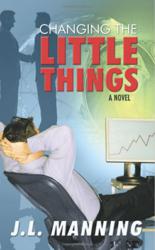 I want to show how you can change the little things in life to bring about great changes.
(PRWEB) September 11, 2012
A new book on self-help change relationships from best seller author J. L. Manning has taken the literary world by storm, demonstrating to single individuals and couples on how to improve their romantic encounters as well as furthering their chances at a successful life.
With modern media skewing people's perception towards romance, religion, family and existence, it's very common to find contradicting ideologies on how to go about establishing and fixing relationships or one's own situation. This has a profound effect on how general society can influence the different demographics—making people feel less of themselves and more of what the idea of them is supposed to be.
The book, "Changing the Little Things" is a welcoming escape from this phenomenon. Penned to provide readers with ideas on how to transform their own lives through small accomplishments, author J. L. Manning intends to guide people towards building better relationships with themselves, their environments, as well as others around them in order to live a better and more fulfilled life.
Mr. Manning says that "I want to show how you can change the little things in life to bring about great changes."
Taking a unique approach to the self-help genre, Mr. Manning has purposefully left many of the situations unfinished. Mr. Manning explains this decision by stating that "many of the stories left unfinished so the reader can choose how they would like to change their lives."
However, with regards to readers who are looking for a strong resolution to many of the characters' dilemmas, Mr. Manning goes on to say that "the most important point of this book is still very much focused upon seeing changes in these people's lives but you will see many drastic changes in a number of the characters at the end."
These stories are relatable to almost everyone, regardless of individual background. Nuggets of wisdom are offered in clear, concise points that are directly applicable in people's lives. The content is written to facilitate quick immersion within the story as well as easy application of the advices. The language is neither pretentious nor righteous, serving as a strong medium for a fictional take on real world problems.
J.L. Manning's previous titles include Paradise Island, The New Mars: A Family Vacation, and The Night Watchman. To find out more about Changing the Little Things, readers are encouraged to find out more on Mr. Manning's website: http://www.jlmanning.net/Change.html.