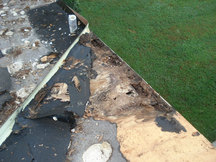 We Provide Factory Training from GAF, North America's largest Roofing Manufacturer
New Orleans, LA (PRWEB) September 11, 2012
Reroof America Corporation and Reroof America Contractors LA LLC who offices have been licensed and operating in Southeast Louisiana since 2000 and having roofed over 7000 home in that area has opened acquired hiring resources to handle the increased demand due to Hurricane Isaac.
Reroof has expanded its staff in terms of administration, repairmen, installers, and service consultants. "Many parts of our service area were bludgeoned by sustained eighty mile and hour winds and gusts of over one hundred miles per hour for over twelve hours" said Mark Lenzer, Vice President of Reroof America.
Reroof America Contractors hires trained staff across the country ever year when the roofing demand increases, like it has in New Orleans and all of Southeast Louisiana. "We also provide factory training from GAF, North America's largest shingle manufacturer, as we are one of their Master Elite and Select Roofing Contractors" added Lenzer.
With an office in the middle of New Orleans, Reroof America is primed to service some of the hardest hit areas by Hurricane Isaac.
About Reroof America Contractors
Reroof America Contractors LA and Reroof America Management Corporation are owned and managed by J.R. Emrich, President. The companies began in the roofing industry in 1979. J.R. Emrich and his companies operate debt free and utilize multiple suppliers in several states. Bonding capability is up to 4 million dollars. The Dun and Bradstreet credit rating for the company is 1R2 and the D&B # is 83-696-7372.
Reroof America is based out of Edmond Oklahoma, Reroof America Has Offices Around the US, having completed over 60,000 roofs in over 16 states over the past 33 years.
Reroof America's primary business is residential roof replacement; however several locations have commercial roofing divisions, window divisions and offer other residential construction solutions. Reroof America is fully licensed and insured in all states within which it operates, and is a member of NRCA, BBB and multiple local and regional associations.
For Information About Reroof America Contractors, Reroof America Corporation, Reroof America Management, or Metro Roofing, contact Mark Lenzer at: 800-755-3530 or mlenzer(at)reroofamerica(dot com) or follow reroofamerica on facebook or Google+.