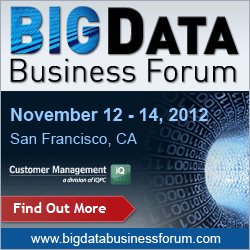 New York, NY (PRWEB) September 11, 2012
The hype surrounding big data has only grown, and the dizzying amounts of customer records, sound recordings, text messages, Facebook comments and technical information coupled with behavioral and transactional data businesses collect can paralyze even the most agile organizations. View the agenda.
As the Winter 2012 edition of the MIT Sloan Management Review noted, "Some think that the era of 'big data' and powerful software means that fewer people have to master the gritty details of statistical analysis. This is deeply misguided. Knowing which analyses to conduct and how to interpret their results is more valuable than ever." The Big Data Business Forum features a think-tank of marketers, analysts and IT strategists to share the tools, skills and insights needed at each stage of the data-to-value journey.
Other notable speakers at the Forum include:

Rayid, Ghani, Chief Data Scientist, Obama for America 2012 Campaign
Jonathan Bruner, Editor-at-Large, O'Reilly Media
Joseph Adler, Senior Data Scientist, LinkedIn
Alok Benjwal, VP of Digital Insights & Analytics, JPMorgan Chase
Gary Class, SVP Enterprise Customer Analytics, Wells Fargo
Philip Shelley, Chief Technology Officer, Sears
Mason Nelder, Director of Social Media & Digital Strategy, Verizon Communications
Dan Marks, Chief Marketing Officer, First Tennessee
Sameer Chopra, VP Advanced Analytics, Orbitz Worldwide
View the complete speaker line-up
With the "business value" rooted in every session, the Big Data Business Forum allows for real-time analytics and predictive modeling for an enterprise-wide strategic business strategy. The event offers the opportunity to network and learn from leaders who are already using big data analytics as their competitive advantage.
Some of the latest technology and solution providers in the industry such as 1010data, HPCC Systems, Wala!, Voltage, and Syncsort are already involved at the Big Data Business Forum.
For more information on the Big Data Business Forum, visit the event homepage.