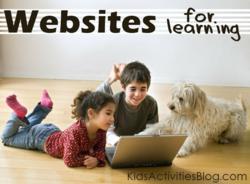 Educational websites for children combine learning with fun.
Dallas, TX (PRWEB) September 12, 2012
Kids love playing video games, so finding an educational website for children that combines learning with fun can help parents feel good about their child's online play. With more and more of these sites popping up on the internet, it has become increasingly difficult to narrow down the choices to something that kids will play and has a quality learning component.
Kids Activities Blog scoured the internet and kid-tested many sites narrowing down the favorites to a list of 10. Many of the websites on the list are free making it even an easier decision. The target grade level for this list was preschool, Kindergarten and early grade school. Each of the websites listed was not only fun (as reported by the kids), but had a learning angle worthy of the time spent playing.
Among the top sites were Starfall, PBS Kids, Kneebouncers, Suessville and ABC Ya. These sites were praised for their varied learning experiences that give kids independence of play while teaching valuable early learning skills.
Disney Go, Big Universe, Peep & The Big Wide World, Storyline Online, and Professor Garfield were also among the top 10 websites for children. These sites each had something special that kids loved. For instance, Disney Go has princesses. If you have a 6 year old girl, you know the importance of this. Big Universe is like an online library to explore. Peep is adorable to both kids and parents. And for the child who wants to be read the same story over and over, Storyline Online is the perfect solution.
What are the best apps for kids? Kids Activities Blog also looked into which apps can take educational fun mobile. The list included reading apps, math games and other learning fun along with identifying a long list of f ree educational apps for kids.
Kids Activities Blog is all about making learning fun and creating positive family experiences. These top websites for children assist parents through positive play.