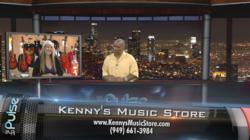 "We create professional online videos that our clients can use to post and promote on their own website and social media pages,'' said Jeff Trujillo, founder of THE PULSE MEDIA.
Anaheim, CA (PRWEB) September 12, 2012
THE PULSE MEDIA, a new multi-faceted video production company recently debuted their informational talk show "THE PULSE" in Orange County, and is inviting businesses, non-profits, individuals and public safety agencies to sign up for their next taping on
September 18, 2012 at the Business Expo Center in Anaheim.
This innovative marketing approach creates multiple promotional opportunities for users. In addition to guests embedding videos on their own online outlets, the segments are also actively promoted on THE PULSE MEDIA's YouTube channel, Facebook and Twitter pages. Recent interviews can be accessed at http://www.thepulsemedia.com.
No previous television experience is necessary. THE PULSE MEDIA's EMMY Award winning staff works closely with guests to customize individual interviews to ensure they have the maximum impact on intended target audiences.
"It is important for us to deliver network quality studio production for our clients at a price point far below traditional video costs," said Trujillo. "The online traffic we've generated and positive feedback we've received so far from clients and viewers has been outstanding."
The benefits of including video on websites are well documented. According to Google, video on a website raises the visibility of a web page on search engine results. Video also increases visitor traffic to websites and social media pages, keeps viewers longer, and results in greater sales on retail websites.
Recently featured guests include local participants from a wide variety of backgrounds, including Philip Yaeger, Executive Director & CEO of the AIDS Services Foundation Orange County, Susan Jeske, CEO of the Ms. America Pageant, Jim Shab, Founder of the Anaheim Business Expo Center, Andrew Black, FBI Special Supervisory Agent and Russel Hornbeek, Founder and CEO of Music Saves Lives.
Reservations are now being accepted for the September 18, 2012 taping. Contact THE PULSE MEDIA through their website or call (866) 656-1576 to schedule an appointment.
The press, VIP's and community leaders are invited to attend the taping to see first-hand this innovative approach for professional videos for businesses, non-profits, individuals and public safety agencies.
THE PULSE MEDIA taping of "The Pulse"
September 18, 2012, 11am-5pm
Business Expo Center
1960 South Anaheim Way
Anaheim, CA 92805