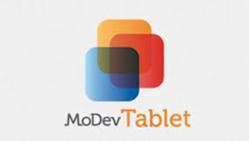 Ten Pearls is precisely the kind of value added sponsor we look for at MoDev as their expertise in mobile will benefit all attendees to the MoDevTablet conference.

Pete Erickson, event organizer.
Herndon, VA (PRWEB) September 12, 2012
TenPearls, a global application development company focused on mobile, enterprise and gaming, is proud to be one of the key sponsors of MoDevTablet, a conference dedicated to all things related to mobile devices and tablets.
The conference, organized by MoDev and headed by Pete Erickson in the Washington DC metro area, will take place Sept 13-15, 2012 at the Artisphere conference and arts center in Rosslyn, VA, adjacent to Washington, DC. The conference will provide three days of mobile tablet specific events including workshops on September 13th, a full conference day September 14th and a tablet specific hackathon on Saturday the 15th. The Friday conference will offer five tracks that include a main stage industry trends track, a development track and a UX/design track, marketing and a dedicated live demo theater.
"Ten Pearls is precisely the kind of value added sponsor we look for at MoDev as their expertise in mobile will benefit all attendees to the MoDevTablet conference," said Pete Erickson, event organizer.
Amongst the many exciting speakers is Ghazanfar Ghori, Vice President of Technology at TenPearls. He will be speaking about the real costs associated behind "Bring Your Own Device" (BYOD) policy at workplaces. BYOD is a hot topic and something that is going to heavily influence which tablet wins at the end of this year as Microsoft Surface, Apple iPad, Google Android , and Blackberry Playbook all push aggressively to target business users.
"TenPearls is very proud to be part of MoDev, which is thriving community for people who are interested in mobile which includes developers, business executives, user experience/ user interface design experts, students, and entrepreneurs with wonderful ideas," said Imran Aftab, CEO of TenPearls. "MoDevTablet is an exciting conference in the wake of explosive adoption rates of mobile tablets within businesses and homes. TenPearls is focused on helping enterprise mobilize, and leverage mobile tablets for both their internal and external interactions, processes and transactions."
More information about the Mobile Tablet conference is available at http://www.modevtablet.com.
About MoDev
The mobile space is moving far too quickly for any one individual to keep pace. One way to stay ahead is through peer-based information passed at the grass roots level. That's what MoDev is all about. We make sure people who care about staying up with the latest trends have access to those who can help them. Developers, designers, marketers and managers of mobile initiatives are all faced with big challenges as the industry evolves. MoDev is an ally an opportunity to meet cool people along the way. Find a free meetup group of our next conference at http://www.gomodev.com.  
About TenPearls 
TenPearls is an award-winning, global application development company helping businesses build products. We have successfully delivered solutions spanning mobile, enterprise, and gaming. Our technical strength combined with our experience in usability, agile requirements gathering, iterative development process and commitment to innovation allows us to successfully partner with our customers. Our diverse clientele include start-ups, small & medium sized companies and large corporations.