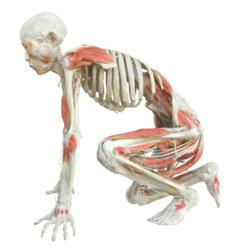 BOISE, Idaho (PRWEB) September 11, 2012
The Discovery Center of Idaho (DCI) will open the phenomenal exhibition BODIES REVEALED on September 29, 2012, running through March 31, 2013. The 6000-square foot exhibition features real, whole and partial human body specimens that have been meticulously prepared and preserved, giving visitors the opportunity to view and gain a powerful new appreciation of the complexity of their own bodies.
BODIES REVEALED lets visitors stand face-to-face with 12 full-body specimens, and over 150 additional organs and partial specimens. These dissected bodies are preserved through an innovative process called polymer preservation, described below.
BODIES REVEALED tickets (includes DCI hands-on exhibits)
$18 Adults (18+)
$14 Youths (4-17)
FREE for children 3 and under
Additional discounts will be applied for seniors, members of the military and Discovery Center of Idaho Members. Call DCI for further details (208-343-9895) or visit DCIdaho.org.
Saint Alphonsus is the Presenting Sponsor of BODIES REVEALED. "Many adults who have vivid memories from high school science class of seeing pictures of a lung damaged by smoking, chose never to light a cigarette," said Sally Jeffcoat, President and CEO, Saint Alphonsus Health System. "Knowledge is power when it comes to staying healthy.
The Bodies Exhibit is not only fascinating it is also informative. As a health care institution we are committed to providing hope and healing in our communities. Part of that commitment is educating and informing individuals and families on how to take care of our bodies. We are pleased to help support the BODIES exhibit and encourage people to attend."
"The presentation of Bodies Revealed by DCI is a great opportunity to provide a very unique, rewarding museum experience to the Treasure Valley, its surrounding communities, and all visitors to Boise. BODIES REVEALED provides a tremendous educational and learning opportunity to our children and adults about healthy lifestyles that can and will positively change lives, resulting in improved health and well-being for our communities. In addition, it is a huge attraction with lots of learning, fun, thoughtful reflection, and entertainment for everyone that attends," said Bruce Schrepple, Board President of the Discovery Center.
"For centuries, the medical community has learned about the inner workings of anatomy through the study of real human bodies, and now it's possible for the public to gain an intimate knowledge as well," said Dr. Roy Glover, professor emeritus of Anatomy and Cell Biology at the University of Michigan and chief medical director for BODIES REVEALED. "The exhibition will change the way people of Boise see themselves. It will enlighten, empower, fascinate, and inspire."
The human body specimens in the exhibition are preserved through a revolutionary technique called polymer preservation. In this process, human tissue is permanently preserved using liquid silicone that is treated and hardened. The end result is a specimen preserved to the cellular level, showcasing the complexity of the body's many bones, muscles, nerves, blood vessels and organs. The full-body specimens can take more than a year to prepare. The specimens included in the exhibit have been donated by the deceased individual or his authorized family member for purposes of dissection and plastination for public education.
For more information on BODIES REVEALED and the Discovery Center of Idaho, contact Doug Lambuth, Marketing Director at 208-287-4233 or email d(dot)lambuth(at)DCIdaho(dot)org.
About DCI
DCI is a non-profit 501 (C) 3 organization. The center is an interactive science center providing exhibits and educational programs that offer authentic, sensory experiences making the sciences, math and technology tangible. The science center fosters lifelong learning and enhances scientific literacy in a collaborative environment for people of all ages and from all walks of life.
DCI celebrates the pure joy of learning, helping to develop an educated workforce and an informed electorate in stewardship of our planet and is built on cooperative partnerships with education, industry and research organizations, public and private. It is our goal to showcase the philosophy and objectives and reflect the region's resources through our programs and exhibits.
Contact: Doug Lambuth, Marketing Director
Discovery Center of Idaho
208-287-4233
d(dot)lambuth(at)DCIdaho(dot)org