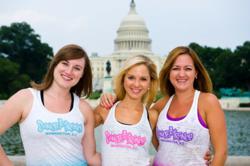 "I was amazed…8 preventable cancers…and the time to start the prevention is in your 20s and 30s" says Sarah Spear Sands
Washington, D.C. (PRWEB) September 12, 2012
When Sarah Spear Sands first learned about the Prevent Cancer Foundation she had no idea that there were so many – 8 – preventable cancers. "I was amazed…8 preventable cancers…and the time to start the prevention is in your 20s and 30s."
So, when Katherine Kennedy – Chairperson of the 2012 Prevent Cancer Foundation (PCF) 5K – approached Sarah and asked her to be a part of this year's event, she was "all in."
To raise awareness among young professionals in D.C. The Dance Trance Moves to Prevent Cancer Event will take place on the evening of Wednesday, September 19. Starting at 8pm, the young professionals will be invited to take place in a 60 minute Dance Trance class – the first 30 minutes will be spent learning a new routine, which the group will lead at the warm-up for the PCF 5K on Sunday, September 30 at Nationals Stadium. The last 30 minutes of the class will be akin to the "high-cardio" Dance Trance classes offered seven times a week at Balance Gym. Following the class, there will be a happy hour hosted on the roof of Balance Gym – Thomas Circle.
Dance Trance is a fun fitness class that combines aerobics with dynamic choreography to "Top 40" music. The DC location is the 42nd Dance Trance program in the country and already has over 60 full-time members since it's formal launch 3 months ago.
"Katherine is brining critical awareness to the preventable cancers – among the people who need to be aware: young men and women in their 20s and 30s," says Sands. "Before her, there was no one our age spreading this important message in D.C. I loved her initiative – and am so happy that Dance Trance can participate."
"Being active in the PCF community is important to me because educating my peers about the preventable cancers and empowering them to do self-exams is how I both keep lasting friendships – and help stop cancer before it starts," says Kennedy. "The Dance Trance Moves to Prevent Cancer Event will encourage our friends to embrace a healthy lifestyle with fitness and knowledge about the preventable cancers."
The Dance Trance Moves to Prevent Cancer Event is open to the public. For more information and to RSVP, please contact Sarah Spear Sands at (202) 288-2268 or email sarah@dancetrancefitness.com.
###