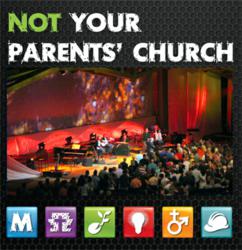 70% of millennials say that church is not relevant in their lives. Growing churches are transforming their facilities to meet the needs of this new generation.
(PRWEB) September 14, 2012
"Not Your Parents' Church", a national seminar presented by Building God's Way (BGW), will continue its fall schedule on October 2 at Christian World Church in Richardson, Texas and October 4 at Great Hills Baptist Church in Austin, Texas. The seminar speaker panel will include experts in the areas of church architecture, church building and 21st century worship technology. Each of the speakers have worked with hundreds of ministries across the country and will share vital information about how successful and vibrant churches are responding to the largest generational shift in U.S. history.
Not Your Parents' Church will shed light on how the new generation is impacting the way ministry space is being designed, utilized and funded. Recent research indicates that 70% of those in the millennial generation feel that church is not relevant in their lives and a paradigm shift is bringing about new economic realities for ministries. Building God's Way church architects have designed more than 500 facilities for churches and Christian schools and will share new perspectives on master planning and design that are key in reaching the Millennial generation.
The architects and church construction experts will also share about a unique construction delivery model that is changing the way churches and Christian schools are being built. With a foundation based on relationships, stewardship and outreach, this proven process is delivering a consistent 20-30% savings compared to standard design and building methods - without lowering quality.
BGW Architect & Founder Dan Cook has extensive experience in church design and construction, having focused exclusively on this market for the past 14 years. As the founder of the integrated Building God's Way process - he has developed proven techniques for signature design and cost-effective construction. Since the inception of BGW, Dan has led the team through the design of nearly 600 ministry-based facilities. Dan's innovative processes have enabled the company to produce high-quality and functional facilities at costs that are consistently 20 - 30% below market averages.
Jim Martin, Senior Consultant for BGW Tech, will headline a panel of presenters in the area of worship technology. Attendees will take part in live demonstrations and training with factory experts on state-of-the-art audio, video and lighting products. Topics will include LED lighting controls & dimming systems, line array sound systems for the modern church, introduction to digital mixing, video streaming in worship spaces and LED outdoor signage
Jim Martin has worked with more than 1,100 churches, specializing in audio, video, lighting, acoustics and broadcast systems. Throughout the years, Jim has worked with pioneers in the industry and carries that knowledge into his designs for houses of worship today. Jim is the author of "The Soundman's Bible" a reference manual dedicated to the volunteer church A/V person.
For more information or to register for a BGW "Not Your Parents' Church" seminar, call 866-249-8484 or visit the BGW Events Registration web page at http://www.bgwservices.com/NYPC.
About Building God's Way - With a portfolio of nearly 400 churches and 120 Christian schools and colleges nationwide, Building God's Way ("BGW") has become a recognized leader in ministry design and construction. BGW has also developed an unparalleled network of kingdom building services that extend beyond just architecture and building and includes growth coaching, vision casting, capital fundraising, financing, leadership development and more. The mission of Building God's Way is to build God's Kingdom by translating the God-given ministry vision of Christian organizations through high-quality, cost-effective buildings and by demonstrating the love of Christ on the job site through the BGW Ministry of Construction program.