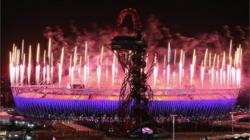 We will never think of sport in the same way and never think of disability the same way.
(PRWEB) September 10, 2012
Sir Philip Craven, president of the International Paralympic Committee, hailed the 2012 Paralympic Games as the "best ever" as a spectacular closing ceremony brought the curtain down on 11 days of incredible sporting action.
With record attendances and huge public interest, the Games have been widely regarded as a success, and Craven was unequivocal in his praise for what has been achieved.
"These have been quite simply an amazing Paralympics," said Craven.
"The Games have changed us all forever. The time has come to declare the London 2012 Paralympics closed, but we all know these Paralympic Games will live on for an eternity."
Cyclist Sarah Storey and wheelchair athlete David Weir, who both leave the Games with four gold medals, carried the British flag into the Olympic Stadium, while Coldplay, Jay-Z and Rihanna supplied the stardust on stage in a ceremony with a central theme of a Festival of Flame.
Sections of the ceremony celebrated the changing seasons, and Prince Edward and London Mayor Boris Johnson also had roles to play as a crowd of 80,000 looked on.
Meanwhile, London 2012 chief Lord Coe emphasised the difference the Games would make to the perception of disability in the UK in the long term.
"The Paralympic Games have set new records every day: sporting records, for crowds, TV audiences, for unbridled spirit - we will never think of sport in the same way and never think of disability the same way," said Coe.
Coe also highlighted the role played by the volunteers this summer.
"The Games Makers stand among the heroes of London 2012 - thank you to all the volunteers," he said.
Talking to Channel 4 before the ceremony, British Prime Minister David Cameron also had nothing but praise for the Paralympics.
"It's been an absolute triumph," he said. "What it means for disabled people, the families of disabled children... it means a lot to an awful lot of people.
"You often think about what people can't do, but the Paras are about them being superhuman - about all the things they can do.
"It has given the country a bit lift and showed what we can do. I think that spirit will stay alive. We'll always remember this summer and think how we can be when were at our best."