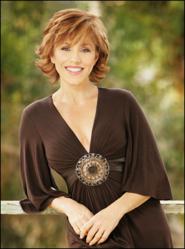 When people talk to me about joining "Fit with Forbes Riley", I feel its so important that its not just about diet and exercise, but how their whole life FITS together!
St. Petersburg, FL (PRWEB) September 12, 2012
The Electronic Retailing Association's (ERA) Moxie Awards, the premier awards program for the direct response marketing industry, recognizes the best in television, radio, online and mobile direct response campaigns and Celebrity TV Host Forbes Riley continues to be an indisputable leader in the industry.
Recognized in 2010 as an Inductee into the National Fitness Hall of Fame for her commitment to promoting health and fitness, Forbes is a 20-year veteran of branded television campaigns on an international scale with such hits as the Jack LaLanne Power Juicer and the Montel Williams HealthMaster with combined grossing totals of more than $1 Billion Dollars.
This year nominations further illustrate Forbes Riley's broad appeal. Beyond just health and fitness, Forbes, as a busy working mom, is focusing on providing healthy lifestyle solutions.
"When people talk to me about joining 'Fit with Forbes', I feel its so important that its not just about exercise and diet, but how their whole life fits together. It's exciting to be honored in two areas I feel are also extremely important for a balanced life – cooking and cleaning."
Forbes is nominated for two ERA Moxie Awards— "Best Female Presenter of the Year" for her work on SuperClean and "Best Long Form, Intellectual Property" for Bravo's "Top Chef University."
"It's very exciting to see a major network like Bravo promote their Emmy Award winning show "Top Chef" with their Celebrity Chef Learn to Cook series, Top Chef University, through Direct Response TV. With the pairing of 'Top Chef All-Star' Richard Blais and Forbes Riley, their chemistry took this show from being a traditional product campaign and transformed it into one of the most engaging half hours on tv." exclaimed Tim Harrington of hm3: Harrington Multi Media Marketing.
Helping people learn about cooking healthy was a perfect match for Forbes with her mission of inspiring people to a live a fit and balanced lifestyle.
Her second nomination is a testiment not only to Forbes Riley's diverse talents as a presenter, but also to her brand about finding healthy lifestyle solutions. The Best Female Presenter of the Year nod is for "SuperClean", and its success is not only because it's a top quality product, but also thanks to the sitcom style delivery and believablity of Forbes and her co-star Chris Steele.
"Marketers understand that Forbes has an amazing connection with women, whether it be stay-at-home moms, young women just entering the work force, and of course the ever growing baby boomers," says Barry Jacobs, SVP of Mercury Media. "When you use the word "best" it has one definition. The top, no equal. When you have Forbes Riley as your spokeperson, you have the best!"
About Forbes Riley™
Forbes' passion to bring affordable, high-quality fitness, health and household products to consumers worldwide is part of an overall mission to help people live stronger, healthier, more balanced lives.
Forbes is a regular presence on televisions worldwide as a product spokesperson and television host--appearing on such networks as ESPN, TLC, Fit-TV, Animal Planet, ABC Family, Home Shopping Network, QVC, The Shopping Channel (Canada), QVC London and has been profiled by Forbes Magazine in the E! Network special "Outrageous Fortunes". Appearing in feature films, television and Broadway; she is most proud of the docudrama about raw food called "Super Charge Me!"
Forbes can be seen reguarly alongside such celebrites as Mary J. Blige, Tori Spelling, Martha Stewart, Kelly Ripa, Wolfgang Puck, and Susan Lucci on HSN promoting her unique brand of lifestyle products. Forbes has built her success on establishing trust with her audience.
This fall she will launch a brightly colored version of her popular SpinGym fitness sensation along with an arm tightening serum, new workout dvds and the inspirational book, "e.a.t – a Journal for What You Eat and for What's Eating You. She can be seen live regularly on HSN promoting her SpinGym fitness system along with her Dual Trainer, Urban Rebounder and Mission Brand Cool Towels.
Forbes Riley's dedication to providing unique solutions and innovative products extends beyond her own products and she has opened her own multi-media production studio located in St Petersburg, Florida to not only shoot productions but to also connect with inventors and help bring their products to market.
For more information about Forbes Riley, please visit http://www.ForbesRiley.com
###