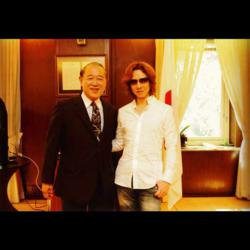 Washington, DC (PRWEB) September 11, 2012
YOSHIKI, international musician/producer, and leader of X Japan, attended The 2012 Points of Light Tribute Awards "Changing Lives Through Service", held at the Residence of the Ambassador of Japan on Friday, September 7, 2012. Points of Light is a charity nonprofit inspired by former President George H.W. Bush, and is the world's leading volunteer service organization. A tribute was made to those whose extraordinary contribution to volunteerism and service had made the world a better place. Yoshiki and 250 some guests in the audience included former Vice President Dan Quayle, Olympic Gold Medalist Kristi Yamaguchi, NBA Legend Dikembe Mutombo, and many others.
Yoshiki put his own favorite "crystal" piano up for auction in 2011, to help provide aid for the Japanese earthquake and Tsunami, as well as collecting donations through Yoshiki Foundation America (USD 201,072 to date). He was invited in Ambassador Fujisaki's honor, for raising funds for the victims and using his voice to spread awareness for the 311 Disaster.
During the VIP Reception, YOSHIKI's music from his Classical album "Eternal Melody II" played a role in setting the mood for this remarkable celebration. In his opening speech, His Excellency the Ambassador of Japan expressed great appreciation to YOSHIKI, for his outstanding charitable contribution.
Coinciding with the Award Ceremony, Points of Light is hosting a charity auction. Amongst the many items being offered, Yoshiki Foundation America is offering a "Private Dinner with YOSHIKI in Tokyo or Los Angeles". Towards the end of ceremony, the crowd erupted into applause, as Auctioneer announced the bidding for Yoshiki's Private Dinner which had reached over USD8,000 since opening (It is currently at USD 10,100).
Other prominent donations being offered include Linkin Park VIP Fan Experience, compliments of Linkin Park; George H.W. Bush's Signed Book Collections, compliments of former President George H.W. Bush; Round of Golf with NBA Legend Dikembe Mutombo, compliments of Dikembe Mutombo Foundation and AJ and Judy Johnson; Autographed Children's Book written by Kristi Yamaguchi, compliments of Kristi Yamaguchi and the Always Dream Foundation, and many more. The online auction opened at 8 a.m. ET on Friday, September 7 and will close two weeks later at 10 p.m. ET on Friday, September 21.
Please visit http://www.biddingforgood.com/poltribute or http://www.biddingforgood.com/auction/item/Item.action?id=178337532 to place your bid
Terms and conditions for the Private Dinner being offered by Yoshiki Foundation America are as follows:

Depending on YOSHIKI and Recipient's availability, dinner will be scheduled within 12 months after purchase
Dinner will take place either in Tokyo or Los Angeles based on Recipient's request
Meeting time and location will be notified by YOSHIKI FOUNDATION AMERICA's representative
Dinner is 90 minutes
Recipient under 18 must be accompanied by his/her parent or legal guardian
Recipient may bring no more than ONE guest to dinner
Recipient and guest are responsible for her/his own travel and accommodation
This donation is non-transferrable under any circumstance
ABOUT YOSHIKI
Yoshiki, considered Asia's most influential music artist and biggest rock icon, is also a songwriter, drummer, and a classically-trained pianist. His rock group X Japan has sold 30-million singles and albums combined and filled the 55,000-seat Toyko Dome a record 18 times. Now the band's popularity is spreading throughout the world, having recently completed a sold-out World Tour, performing in North America, Europe, Latin America, and South East Asia.
In 1999, Yoshiki composed a piano concerto and performed it with a 77-piece orchestra to celebrate the tenth year of the Emperor of Japan's reign. In 2005, Yoshiki composed the theme song and conducted the Super World Orchestra at the opening ceremony of the World Expo. Previously, Yoshiki also recorded a classical album co-produced and arranged by acclaimed Beatles producer Sir George Martin and performed by the London Philharmonic Orchestra.
Beyond music, Yoshiki has his own Visa Card and MasterCard issued by one of the largest Japanese banks. Recently, the legendary Stan Lee created a Super Hero based on him, and for the first time, a Hello Kitty product line is named after a person – "Yoshikitty." In 2010, he launched his non-profit organization Yoshiki Foundation America , which continues to donate to various charitable organizations, including supporting Japanese Earthquake victims. Most recently in 2012, Yoshiki composed the official theme song for the Golden Globes, which aired in 190 countries.
Follow Yoshiki on http://www.twitter.com/yoshikiofficial, http://www.yoshiki.net, http://www.xjapanmusic.com, and http://www.facebook.com/YoshikiOfficial
# # #