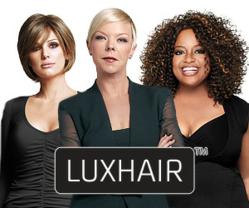 We are thrilled to be the exclusive launch partner for LUXHAIR
Dallas, TX (PRWEB) September 11, 2012
Wigs.com is thrilled to announce that the three new celebrity-inspired brands from LUXHAIR™ – NOW™ by Sherri Shepherd™, WOW™ created by Daisy Fuentes – are available at Wigs.com. HOW™ created by Tabatha Coffey will be launching later this fall.
The LUXHAIR™ launch is exclusive to Wigs.com. As a leader in the wearable hair category, Wigs.com is frequently included early on in the process of bringing new brands and styles to market. Wigs.com was even granted special behind-the-scenes access during early LUXHAIR™ photo shoots making it possible to capture video of one-on-one interviews with each of the celebrities. "We are thrilled to be the exclusive launch partner for LUXHAIR" says Carliz Sotelo Teague, President and Co-founder of Wigs.com. "We are valued as a partner given our extensive experience in the wearable hair category. We are also known for going above and beyond to create a superior "in-store" experience for our customers with multiple product images, product video and proprietary color selection tools."
"The creation of LUXHAIR™ was inspired by the drive to make wigs and hair extensions a staple within the everyday beauty routine," says Michael Kleinman, brand architect for LUXHAIR™. With a broad selection of hairstyles and color options, these collections are likely to appeal to women of all types: different age-groups, personal styles and ethnicities.
About LUXHAIR™:
LUXHAIR™ shows women "HOW" to create "WOW" hair moments, "NOW" with a full wardrobe of fashion forward wigs, add-ons and extensions. Each line, LUXHAIR™ NOW™ by Sherri Shepherd™, WOW™ created by Daisy Fuentes and HOW™ created by Tabatha Coffey, offers a full wardrobe of styles, cuts and color options. These are the perfect accessories to experiment with the latest celebrity hair trends without the commitment – easy-to-wear, accessible and fashionable hairstyles for any woman. LUXHAIR™ collections all use the proprietary and innovative LUXHAIR® Keralon™ synthetic fiber which has an amazing natural feel plus is easy to style.
About Wigs.com:
For more than 15 years Wigs.com has been focused on wearable hair. It has established its name as the best source for alternative hair and related products. In doing so it has separated itself from the competition with the expertise and education offered to the public. Celebrity lines such as Raquel Welch, Jessica Simpson, Vivica A. Fox, Beverly Johnson and many others have partnered up with Wigs.com because they acknowledge their superior experience and expertise.