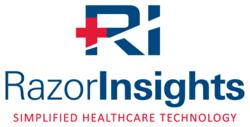 Kennesaw, Georgia (PRWEB) September 11, 2012
RazorInsights, a leader in IT solutions for rural and critical-access hospitals, today reported that Florala Memorial Hospital in Florala, Alabama and Hill Hospital of Sumter County in York, Alabama have both successfully attested to Stage 1 Meaningful Use.
"We are extremely excited and proud to see both Florala Memorial and Hill Hospital reach this meaningful-use milestone," said Michael McKenzie, COO for RazorInsights. "The hospital administrations and clinical staffs, as well as our own Team ONE, have put in a lot of effort and deserve to be commended for this significant achievement."
The attestation period consisted of 90 consecutive days of effective use and the meeting of 14 core objectives and 5 of 10 menu-set objectives. These facilities have been able to monitor their progress via ONE's customized meaningful-use dashboard.
Ms. Doreen Bock, RN, COO/CNO at Florala Memorial Hospital, is confident that RazorInsights has been the right choice for their rural, acute-care hospital. "From the first phone call that I had with Michael McKenzie, I knew we had the right EHR company. I have worked with other EHR companies and, in my opinion, the staff and management of RazorInsights are unprecedented. We could not have asked for a better team. We have nothing but praise for everyone that helped make our kick-off and attestation for meaningful use a success," she said.
Ms. Bock continued by explaining how RazorInsights has helped make their electronic transition a comfortable one. "The benefits that the EHR provides accomplishes what it is intended for, but it can be overwhelming for the staff because it is change. The team at RazorInsights has been there on a 24hr basis for our staff support. The EHR incentive payment, literally, is going to help turn our rural hospital around, and RazorInsights personnel recognized that and were our coaches to make it happen! Our relationship with RazorInsights has been more than company to company, it has been personal and caring and we are thankful to have them. We look forward to continued success with RazorInsights."
With an immediate focus on rural and critical-access hospitals, RazorInsights is providing a lower-cost alternative for the most advanced IT functionality. RazorInsights recently expanded its offerings with a fully-integrated financial management solution residing on the same database as its clinical system. With an ambulatory solution currently being developed, RazorInsights will soon unveil its single-database, ONE Enterprise HIS Solution.
About Florala Memorial Hospital:
Located in Florala, Alabama, Florala Memorial Hospital is a 23-bed community hospital serving the residents of Florala and Covington County. Some of the services they offer include: 24-hour Emergency Care, Nursing, X-ray and CT Imaging, Laboratory, and a wide spectrum of Outpatient Services. For more information regarding Florala Memorial, visit floralahospital.org or call 334-858-3287.
About Hill Hospital of Sumter County:
Located in York, Alabama, Hill Hospital of Sumter County is a 33-bed acute care hospital serving the residents of York and Sumter County. Services provided include: 24-hour emergency care, CT scanner services, Laboratory, Radiology, Dietary, Swing-bed program, Outpatient, Pharmacy, Physical therapy, and Respiratory care services. For more information regarding Hill Hospital, call 205-392-5263.
About RazorInsights:
Based in Kennesaw, Georgia (in the metro Atlanta area), RazorInsights is a dynamic healthcare information technology company. In keeping with the principle of Occam's Razor, they have created a simplified healthcare technology solution for hospitals called ONE-Electronic Health Record. Residing on a single, integrated database, this cloud-based solution offers a simple user experience with cutting-edge clinical tools and industry-standardized data. Hospitals can expect to improve their performance and bottom line with ONE from RazorInsights. To register for a live product demo or for more information, visit razorinsights.com or call 770-308-4111.