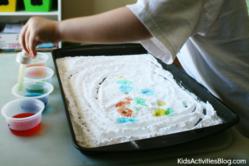 Children love the mystery of science and parents look like geniuses!
Dallas, TX (PRWEB) September 13, 2012
Baking soda and vinegar experiments are simple enough that parents can do them with some common sense and supervision at home. The chemical reaction for kids between these ingredients is a fun early introduction to the scientific process. Trends in kids activities show that parents and caregivers are seeking educational activities when searching for things to do with their kids.
Doing simple activities with baking soda and vinegar can show a child the different dynamic reactions these two ingredients can cause. When food coloring is added to the equation, it is easier for kids to see the resulting reaction. Parents can get in on the fun by gently leading the science experiment with leading questions and observations.
When these ingredients are combined, a delightful fizzing action is observed. Different amounts of each ingredient will result in variation of the fizzy intensity. One variation even turns out to a liquid-like slime.
Why do baking soda and vinegar act this way? The chemical reaction happens when vinegar's acetic acid reacts with the baking soda's sodium bicarbonate to form carbonic acid. Carbonic acid falls apart into carbon dioxide and water. The bubbles come from the escaping carbon dioxide causing the fizzy reaction.
The legendary childhood science project is based on these ingredients, the volcano. How to build a volcano shows a scaled down version of the project perfect for any backyard.
Science for kids doesn't have to be complicated or overwhelming. Using ordinary ingredients to do extraordinary things can be a really fun way start doing science experiments with kids. Children love the mystery of science and parents look like geniuses!
Kids Activities Blog finds the best and easiest ways for parents and teachers to look like geniuses. Simple fun with a learning slant is Kids Activities Blog specialty.