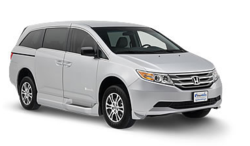 We'll be using these new high-visibility platforms to educate people with unique mobility needs
Akron, OH (PRWEB) September 13, 2012
More than 60 percent of people looking for a handicapped accessible vehicle are new to the market—having experienced a life-altering event within the past year. What's more, these consumers enter a saturated disability market with limited knowledge, making it difficult for them to make informed decisions.
The Mobility Resource, a nationwide network of more than 80 independent handicap van dealers, wants to change that. The group has secured 10 new major guest blogging spots with leading disability related websites, including; Disability.gov, DisabilityHorizons.com, AbleGamers.com, WhatDisability.com and WeConnectNow.com.
As if shopping for a new vehicle wasn't complicated enough, people with adaptive driving needs have far more options to consider. Vehicles for people with disabilities can include lowered floors, ramps, lifts and hand controls, to name a few. This makes for even more tough decisions: Rear- or side-entry? A lift for an occupied or unoccupied wheelchair? A fold-out or in-floor ramp?
On top of the plethora of choices, accessibility and adaptive driving equipment can raise the price of a vehicle significantly. New prospective buyers are left wondering how to select the appropriate handicapped accessible vehicle and how to pay for it.
"These new guest blogging opportunities will let us reach a broad new audience of niche disabled communities," says Chris Miller, The Mobility Resource director of interactive marketing. "We'll be using these new high-visibility platforms to educate people with unique mobility needs about technology and products available to help them live an independent lifestyle. So many people with disabilities don't realize how much handicap van financial aid is out there."
About The Mobility Resource:
Powered by the Braun Corporation, TheMobilityResource.com host's resourceful information about handicap vans and modifications available from network BraunAbility dealers. The networks collective inventory is the largest online of handicap vans. Featuring extensive information about handicap van grants and other financial assistance, the site lists sources of federal and state financial aid to offset the cost of handicap vans and adaptive driving equipment.