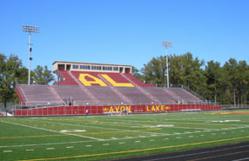 We had an extremely positivite experience with KS Associates engineering team. Their coordinated efforts helped to push this project through before school began. - Michael Abfall, Avon Lake High School Building and Grounds Supervisor.
Elyria, OH (PRWEB) September 12, 2012
KS Associates, a civil engineering and surveying firm located in Elyria, Ohio, has completed a major capital improvement project for Avon Lake City Schools, in time for the 2012-2013 school year. KS Associates provided design engineering services for several improvements at Avon Lake High School aimed at accommodating increased traffic, resolving flooding issues, expanding parking and improving safety.
Named one of "America's Best High Schools" by U.S. News & World Report, Avon Lake High School has experienced rapid growth over recent years — the school serves 1,250 students in grades 9-12. With that growth has come increased traffic, particularly at the school's main (South) entrance off of S.R. 83/Avon Belden Road. A major civil engineering component of the project included the design of an additional lane at the main entrance, together with a new bridge over a natural creek.
KS Associates' services included performing a traffic study, which warranted the addition of a left turn lane off of S.R. 83. The lane addition improved safety, and also eliminated the need for the school's Student Resource Officer to provide traffic control during peak traffic times.
KS Associates also identified and designed corrections for flooding issues in parking areas and athletic fields, and developed plans to increase parking capacity. Despite the many components of this complex, fast-paced project, KS Associates completed design for $700,000 worth of construction in five weeks from authorization to proceed.
According to Michael Abfall, Avon Lake High School's building and grounds supervisor, "We had an extremely positive experience with KS Associates. We were particularly impressed with KS's depth of technical knowledge, speed, and a cohesive delivery of services. KS assembled a team of engineers skilled in the various components of the project, including site planning, flood mitigation, traffic, roadways and bridges. These team members coordinated efforts well, which played a significant role in pushing this project through before academics and athletics began."
Since 2009, following the passage of an $18.5 million levy, KS Associates has been assisting Avon Lake School District in implementing a series of capital improvements to classrooms and school buildings including elementary, middle school and high school facilities. KS Associates has played a role in the success of those projects, providing responsive, professional civil engineering and surveying services.
About KS Associates:
KS Associates is a civil engineering and land surveying firm founded in 1987. The firm provides land survey and mapping services; 3D laser scanning services; design, bidding and construction administration of public infrastructure and transportation projects; and site development engineering services for institutional, commercial and residential projects. For more information visit: http://www.ksassociates.com.