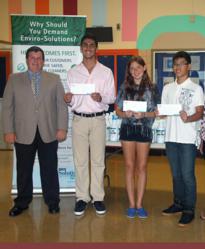 It's great to see a group of tomorrow's leaders embrace the Green initiative and get the whole school involved as well
Ontario, Canada (PRWEB) September 12, 2012
The Great Neck (New York) Public School District, which is located in Nassau County, Long Island (about 30 minutes from New York City), has just released the names and photos of the student winners of the Going Enviral Greener School Video Challenge 2012 Facebook contest conducted by Enviro-Solutions earlier this year.
The contest, which was open to school-age children throughout North America, was hosted on Enviro-Solutions' Facebook page and ran from March 2012 until July 15, 2012.
The youngsters were asked to submit a video on how they would make their school Greener and more sustainable.
The winning students, who were 15 years old, won with a video titled "Period 4 Lights Out." The winning students were Joseph Bichoupaw, Claudia Hakimian, and Zachary Han.
"Period 4 Lights Out" documents how students convinced the school's administration to turn off all the lights in the school for one class period.
The video showcased the savings that would result and how the school could still function well using only natural light.
Joseph, Claudia, and Zachary will share the $500 prize money, and their school will receive $500 worth of Green cleaning chemicals courtesy of Enviro-Solutions.
"These kids are really proud of their accomplishment, and rightfully so," says Brian J. Cossette, Regional Sales Manager/Director of Training for Enviro-Solutions. "Many of the videos were really good, but their video stood out above the others."
Adds Jim DeLello, an Enviro-Solutions distributor with Edmar (located in Woodside, New York) who works with the school district, "It's great to see a group of tomorrow's leaders embrace the Green initiative and get the whole school involved as well."
DeLello also mentions that the winning school was quite grateful to win the free Green cleaning chemicals. "Things are tight for schools all around the country. This gift of free cleaning chemicals will allow the school to purchase some other cleaning supplies that might have been on hold before the contest."
-end-