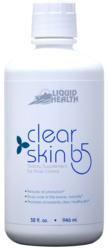 Just because someone is limited by dietary restrictions, doesn't mean they should be limited in their supplement choices.
Murrieta, CA (PRWEB) September 17, 2012
With the release of its newest product, Liquid Health Inc. has also expanded its list of available gluten-free products. Nearly all of Liquid Health Inc.'s liquid supplements are gluten-free, including its recent addition, an extremely concentrated vitamin B5 supplement called Clear Skin B5.
Eating gluten-free is generally done by those who suffer from celiac disease, but has grown in popularity among the general population. If followed properly, a gluten-free diet promotes eating more fresh foods (like fruits and vegetables) and cutting out processed foods, which provides numerous health benefits.
According to Mayo Clinic, "People who follow a gluten-free diet may have low levels of certain vitamins and nutrients in their diets." People who have to, or choose to, eat a gluten-free diet can have a hard time finding gluten-free health supplements to meet their needs. Liquid Health, Inc. has been manufacturing supplements for over 20 years and nearly all of their products are gluten-free.
Brett Peterson, Director of Business Development for Liquid Health, Inc. said, "Just because someone is limited by dietary restrictions, doesn't mean they should be limited in their supplement choices. We are happy to be able to provide so many gluten-free products to our customers."
This new gluten-free product from Liquid Health, Inc. is called Clear Skin B5 and it contains:
Vitamin C 60 mg
Vitamin B1 3 mg
Riboflavin 3.4 mg
Niacin 10 mg
Vitamin B6 5 mg
Folate 400 mcg
Vitamin B12 40 mcg
Biotin 1000 mcg
Vitamin B5 or Pantothenic Acid 3400 mg
Zinc 3 mg
Selenium 14 mcg
Chromium 20 mcg
Molybdenum 35 mcg
Clear Skin B5 also includes a proprietary blend of Aloe Vera Juice, L-Carnitine, Bromelain, Alpha Lipoic Acid, and Stevia.
Clear Skin B5 was developed to help control overbearing acne by decreasing the amount of oil produced by the skin. Vitamin B5, or pantothenic acid has been shown to reduce the production of sebum, a fatty oil known to clog the pores, resulting in irritating acne. By limiting oil production, breakouts can be done away with.
Liquid Health Inc., the manufacturer of the Liquid Health brand of liquid vitamin supplements, has been in business since 1991. All Liquid Health Inc products, including Clear Skin B5, are manufactured in a certified-cGMP (current Good Manufacturing Practices) facility. Liquid Health Inc produces all its products in the United States.