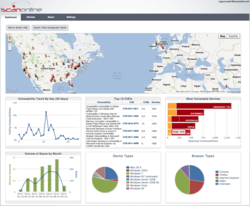 Internet Security Veterans Contribute to Payment Card Industry Data Security Standards
Dallas, TX (PRWEB) September 11, 2012
iScan Online, Inc. a provider of online security scanning solutions, today announced that it has joined the PCI Security Standards Council as a Participating Organization. This will provide iScan Online the ability for advanced review of standards before public release and to provide comments directly to the PCI SSC.
"Joining the PCI SSC as a Participating Organization will be beneficial to customers processing credit cards, PCI venders, and PCI special interest groups," said Billy Austin, President and Co-Founder of iScan Online. "With our commitment to the PCI community, we will offer our technical and business experience that can be leveraged ultimately for improving the security of credit card holder data."
As a PCI Participating Organization, iScan Online will have rights and obligations to the community. iScan Online will be in communication with such vendors and assessors for :

Vote for representatives on the PCI SSC Board of Advisors
Nominate a representative to stand for election to the PCI SSC Board of Advisors
Provide input on drafts of revisions to the PCI DSS specification prior to public release
Recommend new initiatives for consideration to PCI SSC
Provide technical recommendations to the mobile and security scanning groups
"The PCI Security Standards Council is committed to helping everyone involved in the payment chain protect consumer payment data," said Bob Russo, General Manager of the PCI Security Standards Council. "By participating in the standards setting process, iScan Online demonstrates they are playing an active part in this important end goal."
iScan Online will debut its involvement at the next PCI SSC North American Community Meeting in Orlando, Florida on September 12th - 14th at the Walt Disney World Swan and Dolphin Resort. CEO and Co-Founder Carl Banzhof along with President and Co-Founder – Billy Austin will both be present for public discussion and demonstrations.
About iScan Online, Inc.
iScan Online, Inc. is a provider of online vulnerability scanning solutions for addressing the security assessment of mobile devices and remote workers. iScan Online offers customers the ability to scan anytime or anywhere with an Internet connection and a browser.
To date, iScan Online is the first and only vendor to perform security assessments on the internal network by utilizing a web browser without installing software or hardware. iScan Online supports Microsoft Windows and Apple OS X environments and is currently working to deliver solutions for the most popular mobile and tablet devices. For more information, please visit: http://www.iscanonline.com
About the PCI Security Standards Council
The PCI Security Standards Council is an open global forum that is responsible for the development, management, education, and awareness of the PCI Data Security Standard (PCI DSS) and other standards that increase payment data security. Founded in 2006 by the major payment card brands American Express, Discover Financial Services, JCB International, MasterCard Worldwide and Visa Inc., the Council has over 600 Participating Organizations representing merchants, banks, processors and vendors worldwide. To learn more about playing a part in securing payment card data globally, please visit: pcisecuritystandards.org